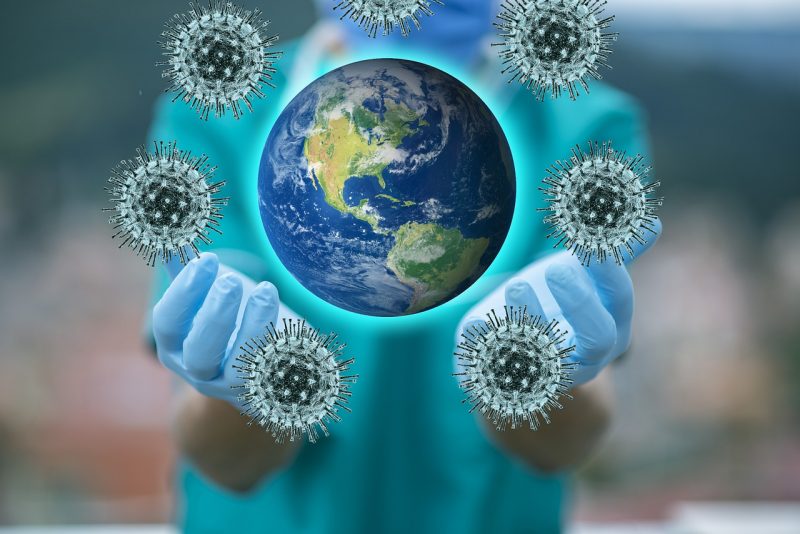 Are we about to go from the frying pan to the fire?  Earlier this year, it seemed to most people that the COVID pandemic was almost behind us.  But then the Delta variant came along and swept like wildfire all over the globe.  And now as we wrestle with Delta, another variant has come along that authorities are warning could be the most dangerous of them all.  As you will see below, one prominent immunologist is telling us that the Mu variant "looks potentially good at immune evasion".  Those are extremely alarming words, but Dr. Fauci is assuring us that we don't have anything to be concerned about.  In fact, he is insisting that the Mu variant is not "an immediate threat" at this moment…
The new Covid-19 variant "mu" is not an immediate threat to the United States, federal health officials said Thursday.

"We're paying attention to it, we take everything like that seriously, but we don't consider it an immediate threat right now," White House chief medical advisor Dr. Anthony Fauci said at a press briefing.
Considering how often he has been wrong, it is astounding that so many people out there still listen to him.
At this point, Fauci has basically become the George Costanza of the medical world.  When he tells you something, it is almost always wise to assume that the opposite of what he says is actually true.
In this case, Fauci is once again contradicting some of the leading experts from around the world.  For example, a top immunologist at Imperial College London is telling us that the Mu variant is definitely something that we should be concerned about…
"At the moment, it looks like there's genuine cause for concern in USA, Central America and South America, but as we saw with Delta, a potent variant can traverse the globe in the blink of an eye," Danny Altmann, PhD, an immunologist at Imperial College London, told The Telegraph.
So why is he so alarmed by this particular variant?
Well, he says that the early research indicates that it appears to be highly effective at evading immunity…
"Mu looks potentially good at immune evasion," Altmann told The Telegraph. "For my taste, it's a stark reminder that this isn't by any means over. On a planet of 4.4 million-plus new infections per week, there are new variants popping up all the time, and little reason to feel complacent."
The Mu variant was first detected in South America, but it has now traveled all over the world, and Business Insider has reported that cases have now been confirmed in 47 different U.S. states…
Called Mu, the B.1.621 variant was first detected in Colombia in January this year. As of September 4, cases of the strain have been reported in 47 US states and the District of Columbia, Newsweek was first to report.

The only states without reported cases are Nebraska, Vermont, and South Dakota, according to Outbreak.info's data.
Unfortunately, that information is a little bit outdated, because WebMD is now telling us that cases have now been confirmed in 49 different U.S. states…
More than 4,700 cases of the Mu variant have been identified worldwide through genomic sequencing, according to Outbreak.info, an open-source database operated by Scripps Research. The U.S. has identified 2,011 of these cases, with 348 in California. As of Thursday morning, only one state — Nebraska — had not yet reported a Mu case.
So the Mu variant is not some "potential threat" that may or may not materialize in the future.
It is here now, and it is spreading.
One thing that I am watching closely is the fact that many COVID victims are reporting very ugly sores on the skin as one of their symptoms…
While the three most common symptoms of Covid-19 are cough, high temperature/fever and loss of smell and taste and are universally know, few know that rashes on skin are also indicative of suffering from novel coronavirus. A report published in The Lancet journal reported that skin lesions such as erythematous rashes, urticaria and chicken pox-like vesicles "developed at the onset of SARS-CoV-2 infection or during hospital stay and did not correlate with disease severity."

Some of the lesions also had burning and itching while some began as erythematous-violaceous patches that slowly evolved to purpuric lesions and then to blisters and ulceronecrotic lesions, with final complete return to normal. Another research found that 21% of the Covid-19 patients they observed, reported skin rashes as their only symptom while 17% of patients suffering from coronavirus experienced rashes as their first symptom.
At this point, we do not know if the Mu variant makes the appearance of such sores more or less likely.
Hopefully we will learn more soon.
Even though none of the injections that have been developed were designed to fight the Delta variant or the Mu variant, U.S. officials are getting ready to start distributing "booster shots" later this month…
The U.S. will likely start to widely distribute Pfizer Covid-19 booster shots during the week of Sept. 20, but the rollout for Moderna's vaccine could be delayed, White House chief medical advisor Dr. Anthony Fauci said Sunday.

The Biden administration has announced plans to offer third doses to people who received the Pfizer and Moderna shots, pending approval from public health officials. The U.S. recommends an additional shot eight months after the second dose.
A lot of Americans that have already had two shots are not going to want a third, but Fauci is telling us that data coming out of Israel "supported the rationale for COVID-19 booster shots"…
"I would not at all be surprised that the adequate, full regimen for vaccination will likely be three doses," Fauci said during a Thursday briefing of the White House coronavirus response team, though he noted that regulators would have to ultimately make that determination.

Fauci presented data from Israel that showed waning immunity to the virus after about eights months that he said "supported the rationale for COVID-19 booster shots."
But of course it won't be too long before we are told that three shots is not good enough either.
In fact, over in Israel they are getting ready to start giving people their fourth shots…
Israel is set to begin preparations to administer fourth doses of the coronavirus vaccines as the country deals with soaring cases despite its trail-blazing roll-out of jabs.

The country's national coronavirus czar Salman Zarka said the country needs to prepare for a fourth injection, which could be modified to better protect against new variants of the virus.
Do you know that old saying about doing the same thing over and over again but expecting different results?
This crisis totally reminds me of that.
And at this point, skepticism is definitely on the rise among the general public…
The survey asked, "Do you believe public health officials are lying about the safety of COVID-19 vaccines?"

Forty-four percent said no, but over one-third, 37 percent, believe they are lying. Another 19 percent remain unsure.

Opinions are sharply divided on party lines. A majority of Republicans, 53 percent, believe public health officials are lying, compared to 26 percent of Democrats and 35 percent of independent voters who say the same.
I understand that there is a tremendous amount of "COVID fatigue" out there right now.
Many people desperately want this pandemic to end because they want to get back to their normal lives.
Unfortunately, this pandemic may be entering a dangerous new chapter, and this is happening at a time when our world is being shaken in so many different ways.
These are such troubled times, and I have a feeling that they are about to become even more troubled.
But Dr. Fauci keeps telling us that everything will be just fine if we will just listen to what he says, and you can believe him if you want.
***It is finally here! Michael's new book entitled "7 Year Apocalypse" is now available in paperback and for the Kindle on Amazon.***
About the Author: My name is Michael Snyder and my brand new book entitled "7 Year Apocalypse" is now available on Amazon.com.  In addition to my new book I have written five others that are available on Amazon.com including  "Lost Prophecies Of The Future Of America", "The Beginning Of The End", "Get Prepared Now", and "Living A Life That Really Matters". (#CommissionsEarned)  By purchasing the books you help to support the work that my wife and I are doing, and by giving it to others you help to multiply the impact that we are having on people all over the globe.  I have published thousands of articles on The Economic Collapse Blog, End Of The American Dream and The Most Important News, and the articles that I publish on those sites are republished on dozens of other prominent websites all over the globe.  I always freely and happily allow others to republish my articles on their own websites, but I also ask that they include this "About the Author" section with each article.  The material contained in this article is for general information purposes only, and readers should consult licensed professionals before making any legal, business, financial or health decisions.  I encourage you to follow me on social media on Facebook and Twitter, and any way that you can share these articles with others is a great help.  During these very challenging times, people will need hope more than ever before, and it is our goal to share the gospel of Jesus Christ with as many people as we possibly can.