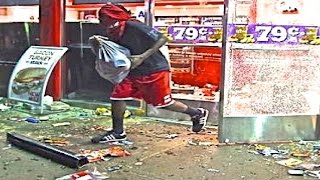 Asian-American-owned businesses in the St. Louis suburb are a mess after days of looting in the wake of Michael Brown's killing. And one lawyer says the authorities let it happen.
It happened during the L.A. riots, when anger over the police beating of Rodney King spilled into Koreatown. It happened fictionally in Spike Lee's Do the Right Thing, when an Asian-American business owner was forced to defend his store from rioters.
And it's happening again in Ferguson: Looted Asian-American businesses have become collateral damage.
Asian-Americans own a number of the stores lining West Florissant Avenue, where more than 20 businesses have suffered damage in the wake of Michael Brown's killing. At least five of these stores are Asian-American-owned, according to local sources and business records.
(Read the rest of the story here…)