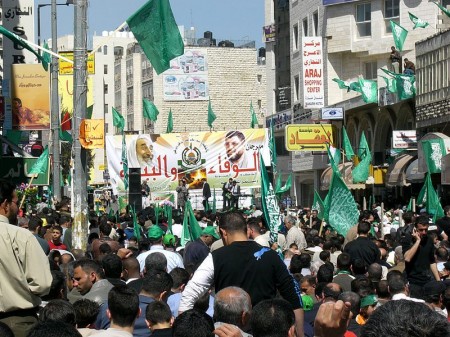 Hamas' resilience is owed partly to the group's stockpiling of rockets, along with its ability to manufacture its own weaponry. And Hamas' extensive tunnel system has allowed the group to continue carrying out attacks, such as a strike against an Israeli watchtower on Monday that killed five soldiers.
But there's another source of Hamas's durability: It has an enormous number of available fighters.
Because of Hamas' status as a nonstate militant group, there is no definitive count of the number of fighters the organization actually has. It is possible that, because of the group's sometimes loose cell-based structure, not even Hamas leaders have an exact idea of the number of militants they command.
However, most estimates of the manpower of Hamas' military wing, the Izz al-Din al-Qassam Brigades, lists the force's manpower in the tens of thousands with somewhere between 10,000 and 20,000 soldiers. In 2009, the International Crisis Group estimated that the Qassam Brigades had 7,000 to 10,000 full-time members with a reserve of 20,000 soldiers.
(Read the rest of the story here…)