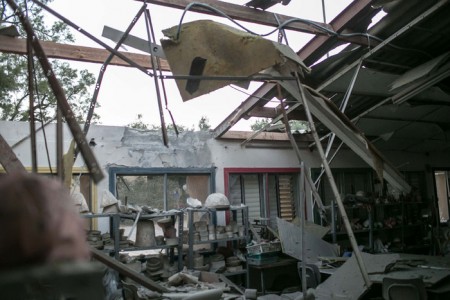 After more than three weeks of fighting and a mounting death toll in Gaza, Israel and Hamas agreed to a 72-hour unconditional ceasefire that will begin Friday morning, the United States and United Nations announced.
This is the longest cease-fire agreed to since the fighting began. Whether it will last is uncertain. Previous cease-fires have been for shorter periods and marked by violations.
The humanitarian ceasefire will give "innocent civilians a much needed reprieve from violence," Secretary of State John Kerry and U.N. Secretary General Ban Ki-moon said in a joint statement.
(Read the rest of the story here…)
As all this is going on, Israeli and Palestinian officials should be meeting in Cairo to try to reach "a durable cease-fire," the U.N. and U.S. statement said. "The parties will be able to raise issues of concern in these negotiations."
Will they be able to reach a breakthrough?
The past doesn't suggest such is likely, at least anything that will lead to a solution to issues that Israelis and Palestinians have been grappling with for decades. And the animosity between Israel and Hamas, which controls Gaza, runs especially deep, with both sides accusing each other of putting each others civilians at risk.
John Kerry called the talks — to be mediated by Egypt — "a lull of opportunity … to try to find address ways to obtain a sustainable cease-fire," while admitting there are "no guarantees."
(Read the rest of the story here…)
Israel vowed Thursday to press ahead with its offensive in Gaza, as Prime Minister Benjamin Netanyahu said his country's military would demolish Hamas' network of tunnels "with or without a cease-fire."
Netanyahu said he won't accept any truce that will not allow Israel to achieve its goal of destroying the tunnel network it says is used to carry out attacks inside Israel. Hamas said it will only lay down arms once Israel and Egypt give guarantees that a seven-year Gaza border blockade will be lifted.
The firm tone from Israel comes as its military called up 16,000 more reservists Thursday, in a move that may signal a widening of its military operation in Gaza. It is not clear how many fighters militant groups in Gaza have at their disposal.
Israel has activated 86,000 reserves since the conflict began on July 8 in a bid to end rockets fired by Hamas into Israel. The operation expanded July 17 to include dismantling the network of tunnels. Israel said it is no more than a few days away from destroying the remainder of the 32 cross-border tunnels it has uncovered.
(Read the rest of the story here…)