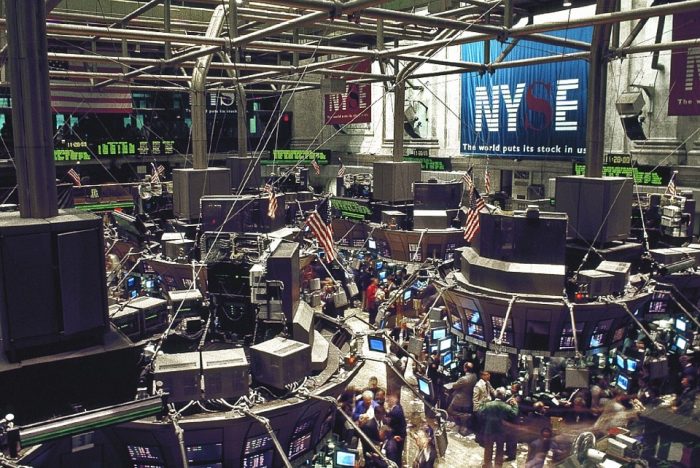 The post-election stock market rally is officially over. After hovering near record highs for the past couple of weeks, U.S. stocks had their worst day in six months on Tuesday. For quite some time it has been clear that the momentum of the post-election rally had been exhausted, and a pullback of this nature was widely anticipated. But even though stocks fell by more than 1 percent during a single trading session for the first time since last September, it is going to take a whole lot more than that to bring stock prices back into balance. In fact, stocks are so overvalued at this point that it would take a total decline of about 40 to 50 percent before key stock valuation measures return to their long-term averages.
So we are still in a giant stock market bubble. All Tuesday did was shave about one percent off of that bubble.
Let's review some of the numbers from the carnage that we witnessed…
-The Dow was down 237.85 points (1.14 percent)
-The S&P 500 was down 1.2 percent on the day
-The Nasdaq was down 1.8 percent at the closing bell
-Financial stocks were down more than 2.5 percent
-Overall, it was the worst day for banking stocks since the Brexit vote
-Bank of America is now down more than 10 percent since Trump's speech to Congress
-The Russell 2000 (small-cap stocks) dropped about 2 percent
Some prominent names on Wall Street were warning ahead of time that this was coming. Marko Kolanovic was one of those voices…
Marko Kolanovic has done it again.

Last Thursday, one day ahead of the massive quad-witching where over $1.4 trillion in options expired in relatively tame fashion, the JPM quant warned of "near-term market weakness" and suggested "reducing US equity exposure. And, sure enough, JP Merlin's Gandalf timed it impeccably yet again. To be sure, the jury is still out on what caused the selloff – lack of votes to repeal Obamacare, fears about Trump's fiscal policy agenda, the market's sudden realization that it is at 30 CAPE, or just a technical revulsion – what matters is that once again, like clockwork, Kolanovic called a key inflection point just days in advance.
Of course the mainstream media is telling everyone not to worry. They are insisting that this is just a temporary blip and that a market "correction" is highly unlikely. The following comes from CNN…
Few experts are predicting a correction — which is a 10% pullback from a market high. Even fewer see a bear market, a 20% drop or more, on the horizon.
Hopefully CNN is correct.
But it should be noted that experts such as Kolanovic are warning that more panic selling may be coming in the days ahead…
Furthermore, the modest but rising uptick in realized volatility is starting to cause outflows from volatility-sensitive investors the JPM quant calculated and, as a result, the break in short-term momentum may cause modest equity selling by trend following strategies.

In other words, in the absence of a positive catalyst over the next few days – and with uncertainty ahead of the Thursday Trumpcare vote only growing by the hour we fail to see one emerging – the double whammy of gamma positioning and the CTA momentum "flip" will be the catalyst for the next, extremely overdue, move lower.
It is going to take quite a few more days like today before we can talk about the kind of "financial crisis" that I have been warning about for a long time, but we may have already reached a key turning point.
So much of the post-election stock market rally was based purely on hope, and meanwhile the underlying economic numbers have continued to deteriorate. Corporate earnings are down, it is being projected that U.S. GDP growth will be about one percent during the first quarter, and used vehicle prices are dropping for the first time since the last recession…
In its March report, the National Association of Auto Dealers (NADA) reported an anomaly: dropping used vehicle prices in February, which occurred only for the second time in the past 20 years. It was a big one: Its Used Car Guide's seasonally adjusted used vehicle price index plunged 3.8% from January, "by far the worst recorded for any month since November 2008 as the result of a recession-related 5.6% tumble."

The index has now dropped eight months in a row and hit the lowest level since September 2010. The index is down 8% year over year, and down 13% from its peak in 2014.
When the Federal Reserve raised rates, that was very bad news for stocks, and if Donald Trump cannot get his Obamacare replacement through Congress that will be more bad news for stocks.
But even if there was no bad news, it is inevitable that stock prices would decline at some point anyway.
It is simply not rational to have price-earnings ratios up around 30. The only other times when price-earnings ratios have become so bloated were right before the stock market crash of 1929, right before the stock market crash of 2000 and right before the stock market crash of 2008.
Whenever it ultimately happens, the truth is that stocks always eventually return to their historical averages. And if a "black swan event" or two are thrown in, that could push stocks well below their historical averages.
Never before has there been this much debt in the world, and not even in 2008 were global financial markets so primed for a crash.
Many people get caught up in trying to predict what month or what day the markets will crash, and if you could predict that accurately you could make a lot of money.
But that is not the point.
What everyone should be able to agree on is that this temporary stock market bubble that has been fueled by reckless intervention from the Federal Reserve is not sustainable and that it is inevitable that stock prices will be a lot lower in the future than they are right now.
We should be thankful that this bubble has lasted much longer than it should have, because what is going to come after this bubble bursts is going to be absolutely horrible.
Markets tend to go down a lot faster than they go up, and when the coming crash finally occurs it is going to make 2008 look like a Sunday picnic.
So whatever you need to do financially, you should think about doing it soon, because the alarm bells on Wall Street are starting to ring.