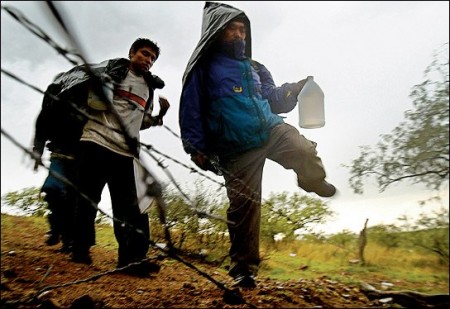 The Department of Homeland Security is now openly admitting they're using taxpayer funds to ship illegal immigrants anywhere in the country they want to go, confirming Infowars reports that federal agencies are standing down from enforcing border security and instead escorting scores of Central American immigrants deeper inside the US.
The AP reports the Obama administration knows it is letting illegals go free, but is refusing to disclose any actual figures:
The Obama administration has released into the U.S. an untold number of immigrant families caught traveling illegally from Central America in recent months — and although the government knows how many it's released, it won't say publicly.
The AP goes on to note immigrants, hailing primarily from Guatemala, Honduras and El Salvador, who survived the perilous journey to the U.S. "cannot be immediately repatriated, so the government has been releasing them into the U.S. interior and telling them to report within 15 days to the nearest U.S. Immigrations and Customs Enforcement offices."
The admission underscores Infowars' reportage over the past week detailing how federal border agencies have been issued a top-down order to stand down, effectively surrendering control of the U.S. southern border to the overwhelming flood of illegal immigrants. The AP estimates "The figure is widely believed to exceed 40,000 since October. It's believed to be slightly below the roughly 52,000 children caught traveling illegally from Central America over the same period.."
Last week, Infowars exclusively reported US church groups were aiding the surge of illegal immigrants by providing them temporary shelter, clothing, food and in some cases legal advice.
Shortly thereafter, McAllen Emergency Management Coordinator Kevin Pagan confirmed to Infowars the US Border Patrol was indeed dropping illegal immigrants off at a bus station in McAllen, Texas, complete with vouchers and bus tickets to travel "somewhere in the interior [of the U.S.]" in anticipation of set immigration court hearings.
(Read the rest of the story here…)