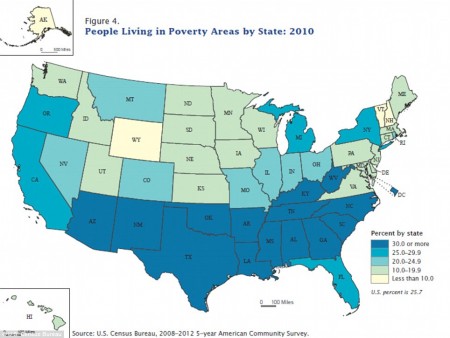 The number of Americans living in poor neighborhoods has skyrocketed in the last decade – and nowhere is the trend more prominent than in the South, where more than 30percent of the population is concentrated in an area with high poverty.
A grim new report from the U.S. Census Bureau shows a solid band of high poverty neighborhoods – running from Arizona east to North Carolina. Only Florida and Virginia are spared from the trend.
The data show that poverty in the United States isn't just growing, it's becoming more concentrated – which can exacerbate social problems and lower the chances of social mobility.
The Census report points out that the number of people living under the federal poverty line – less than $24,000 a year for a family of four – has increased between 2000 and 2010. The number of Americans living in poverty climbed 45percent to 45million.
(Read the rest of the story here…)