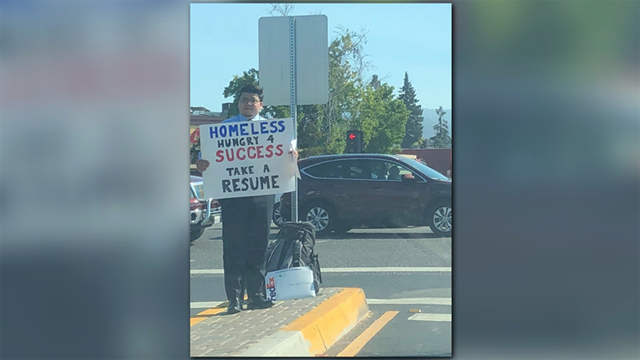 (NBC2) A California homeless man is receiving an outpouring of support after a photo of him holding a unique sign was posted on Twitter.
Jasmine Scofield saw 26-year-old David Casarez outside with a sign that read "Homeless, hungry 4 success, take a resume." She tweeted his photo and a copy of his resume and asked for any leads. "Please RT so we can help David out!" she said.
Since Friday, the Tweet has been retweeted and liked more than 100 thousand times.
Today I saw this young homeless man asking for people to take a resume rather than asking for money. If anyone in the Silicon Valley could help him out, that would be amazing. Please RT so we can help David out! pic.twitter.com/ewoE3PKFx7

— FullMakeup Alchemist (@jaysc0) July 27, 2018