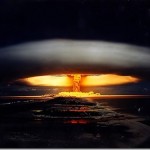 The most important news for Friday, August 28th, 2009…..
A new report commissioned by the International Atomic Energy Agency says that Iran's nuclear energy program may include "military dimensions".
The United Arab Emirates seized a North Korean ship several weeks ago that was bound for Iran and that was carrying weapons in violation of a U.N. embargo.
The U.N. is warning that the discovery of the swine flu in birds in Chile could signal another step in the development of the H1N1 virus.
U.S. health authorities are turning to social networking sites such as Facebook and Twitter in a bid to convince people to take the swine flu vaccine.
A new bill in Congress would give Barack Obama emergency power over the entire Internet.
Obama is cozying up to liberal clergy members in a bid to find support for his health care plan.
Is Obamacare about to be renamed Kennedycare?
India is raiding "food hoarders" as food shortages there have become increasingly worse.
Are America's forests about to be turned into genetically modified forests?
A new Fox News poll reveals that Americans think that the swine flu vaccine is more dangerous than the swine flu itself is.
John McCain had one angry woman physically removed from his recent town hall meeting in Phoenix about health care.
It has now come out that Richard Nixon considered Ted Kennedy such a threat that he even ordered aides to plant secret service bodyguards to spy on the senator's "super swinger" lifestyle.
Former presidential candidate Chuck Baldwin has written another shocking article about the internment camp program being developed by the U.S. government.
During their August fact-finding expedition in the Pacific, a group of University of California scientists found much more debris in the Great Pacific Garbage Patch than they expected.
Does Jay-Z's latest video contain blatant occult symbolism?
A new bill before Congress would prohibit workplace discrimination, including decisions about hiring, firing and wages, based on sexual orientation or gender identity.
Dozens of cows appear to be committing suicide by throwing themselves off a cliff near a small village in the Alps.
Lastly, a 10-year-old homeschooled girl has been ordered by a New Hampshire court official to attend a public school because she was too "vigorous" in defense of her Christian faith.