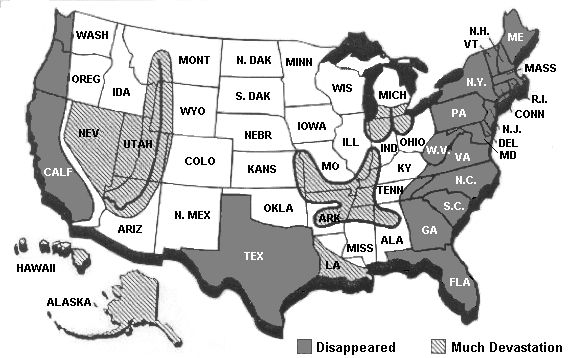 In 1989, Nita Johnson had a startling open vision about America's future judgment.  In that open vision, she was shown a map of the United States, and region by region she was shown specific judgments that would hit each particular area.  In 2019, we have witnessed unprecedented flooding in the middle of the country, and tornadoes have been absolutely devastating communities in the heartland for the last 11 days in a row.  Could it be possible that we are witnessing a partial fulfillment of this open vision right now?  Read the vision for yourself, and let us know what you think by posting a comment below…
---
The Vision: On January 27, 1989, I had been in a spirit of prayer all night and was finally just starting to dose off to sleep. Suddenly, I was fully awakened by a vision of a map of the United States. It was not a vision in my head but was what some call an open vision out in front of me.
The map was in a silvery light and was completely sectioned off into states. just as suddenly as it had appeared, I heard a voice, as robust as the sound of many waters yet with great intensity, begin to give directions. Starting with the West Coast, the voice would speak and that same silvery light would shoot down from the direction of heaven like a laser beam onto the map. The light would follow the path directed by the voice and then effects would follow as I will explain. First, the voice cried out-'The West Coast, California, Oregon and Washington, starting from the southern most tip all the way up to Seattle, will suffer natural disasters, such as earthquakes, floods and fire, and enemy attack. "The line shot up the map taking most of California and leaving only a small section that bordered on Arizona and Nevada. It went up through Oregon taking about half of that state and then on up through Washington, taking about one-third of that state, then out toward the ocean through Seattle. The minute the line touched Seattle, everything west of the line disappeared.
The voice then cried out, "Michigan, Indiana, Ohio, and Illinois will suffer natural disasters, such as floods, earthquakes and tornadoes, and enemy attack. Immediately, this line started at about where Lansing, Michigan, is and fanned down in what became two lines going south first. Then one line swung back up easterly through Ohio, going out over the Great Lake Erie through Cleveland. The other line swung down through Indiana and then headed back up northwesterly and went out into the Great Lake Michigan up by the way of the northeast corner of Illinois and out through Chicago. When it was done, it looked like two "u"s side by side. This affected areas all through the region, for instance, as far east as Detroit and easterly in Michigan to the Great Lake itself on the west. The whole southern part of the glove experienced cataclysmic results.
Next, the voice called out, "Most of Louisiana and all of Texas will suffer natural disasters, floods, hurricanes, tornadoes, and enemy attack. "The line shot up through New Orleans east of Baton Rouge, up through Shreveport in a kind of wiggly way then cut off all of Texas. Texas disappeared. Louisiana experienced devastation but didn't disappear.
I was ready for this to end, yet the Lord continued.- New York down through Pennsylvania, the Virginias, the eastern Part of Tennessee, Georgia, and Florida will suffer natural disasters of every kind, hurricanes, flooding, earthquakes, etc. and enemy attack. Then everything that was east of the line disappeared.
The Lord continued, "The Grand Canyon will suffer natural disasters. "The line seemed to start at the bottom of the Grand Canyon heading northerly straight up to Montana through Yellowstone. This was also accompanied by cataclysmic disasters like floods, earthquakes, volcanoes, and fires. This affected a substantial area, including Arizona, Utah, western parts of Wyoming, the eastern tip of Idaho and southwestern part of Montana. The regions did not disappear, but experienced utter catastrophe.
Then Missouri, Mississippi, Arkansas, Alabama, West Tennessee, Kentucky, and on it went. There were severe heat waves, hailstorms, energy blackouts, severe snow and ice storms as well as extreme arctic cold spells to the loss of many lives. I saw it so often occur in some the least likely areas. Famines, pestilence, plagues, and more. Nevada and Utah were all but destroyed through natural disasters of every kind and ultimately enemy attack. They did, however, remain on the map (Please note that I am not declaring that the states that disappeared fell off into the sea. I don't know why they disappeared, only that they did. Consequently, I am merely relating what I saw-not trying to interpret.) [Uninhabitable, or inhabited by invaders]
I was so dumbstruck that I felt numb, even bruised. It was hard for me to pull it all together in my mind. I just sat there in shock. Finally, I realized if I didn't write it down, I'd lose a lot of it as there was so much detail. So I wrote what I could remember. Some states, such as New Mexico, were lost from my memory. I couldn't remember what happened to them, so I didn't record it.
I distinctly remember, however, that the only part of the US that was not devastated was the Central United States, a region basically west of the Missouri River, as I have indicated on the map. I also realized that many of the things that would begin happening immediately would be of an unusual nature, such as natural disasters that would seem improbable or even impossible, at least for that particular geographical area.
I was instructed that this sequence of events would start immediately, picking up momentum with time until eventually the succession would be happening with gunshot rapidity, until all fulfilled. It's important to understand that the natural disasters did not specifically follow "the lines", but the lines seemed to indicate the borders of the severely affected areas. The only one exception was the line that went up through the Grand Canyon north to Montana. In that case, the line seemed to symbolize the central core of action with a radiating aftermath both to the east and west. I saw natural disasters in Alaska and the Hawaiian Islands followed by warheads.
Finally, I saw a severe diminishing of our nation's military. Officers, and enlisted men, as well as the closing of many critical bases were part of the scenario. Our ability to defend ourselves was critically reduced, to a point of near ineffectiveness. (The Military cut down was not incorporated in this vision, but was seen many years ago.)
(https://www.ubm1.org/?page=propheti)