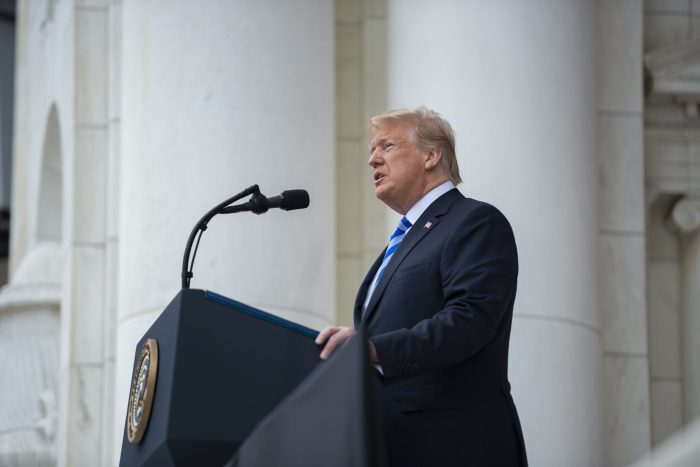 Could it be possible that the Federal Reserve is attempting to influence the outcome of the upcoming midterm elections? Just weeks before Americans will go to the polls, the Fed has been making headline after headline with talk about interest rate hikes. And they very well understand that interest rate hikes will rattle investors and slow down the economy. In fact, every Fed rate hiking cycle since 1957 has ended in either a stock market crash or a recession. So could the Federal Reserve be doing this on purpose in order to sabotage Donald Trump and the Republicans? Nobody is really asking this question, but perhaps we should be.
For a while there it looked like a good rally was cooking on Wall Street, but then news about future Federal Reserve interest rate hikes sent stocks tumbling on Wednesday…
The Dow Jones Industrial Average fell Wednesday in volatile trading after a summary of the Federal Reserve's most-recent meeting showed the central bank was leaning toward more rate hikes moving forward.

The 30-stock index dropped 91.74 points to 25,706.68 as sharp losses in IBM offset strong gains in Goldman Sachs. The S&P 500 and Nasdaq Composite closed just below the flatline at 2,809.21 and 7,642.70, respectively.
And the Federal Reserve is also being identified as the reason why Asian stocks tumbled overnight…
Stocks in Asia were broadly lower on Thursday morning, as a Fed report hints at more rate hikes ahead.

The Greater China markets were in largely negative territory in early trade. The Shanghai composite dropped by 1.53 percent while the Shenzhen composite fell by 1.914 percent. Hong Kong's Hang Seng index also traded slightly lower.
As I have explained many times, nobody has more control over the economy than the Federal Reserve does, and nobody has more influence over the financial markets than the Federal Reserve does either.
If the American people truly understood the Federal Reserve, there would be "End the Fed" protests in every city in America tomorrow morning.
What is troubling investors so greatly at the moment is the fact that the Fed minutes that were just released clearly indicate that more interest rate hikes are coming in future months…
Federal Reserve officials remain convinced that continuing to gradually increase interest rates is the best formula to preserve a steady economy, according to minutes released Wednesday of the central bank's most recent policy meeting.

That may not please President Donald Trump, who has been vocal in his criticism of the central bank's actions.
President Trump has been criticizing the Fed recently because he understands that many Americans vote based on how their pocketbooks are doing. If the economy is doing well, his re-election chances go up, but if the economy tanks there is a very good chance that he could lose in 2020.
And if stock prices really start to tumble over the next few weeks, that would really help Democrats in the upcoming mid-term elections.
Of course it isn't just President Trump that has been criticizing the Fed lately. In fact, CNBC's Jim Cramer is literally "begging" the Federal Reserve to slow down the pace of future interest rate hikes…
"I'm not saying the Fed's gone crazy. I'm not saying they need to stop tightening because it's bad for the stock market. I don't care about that. I'm simply begging [Fed Chair] Jerome Powell and the rest of the Open Market Committee to take things one rate hike at a time," he said. "Because from what I've seen so far this earnings season, it might make sense to put next year's three planned rate hikes on hold until we know if the nascent strength is dissipating before our very eyes."
Jim Cramer can see what all of the rest of us can also see. U.S. economic activity appears to be slowing down substantially, and major volatility has returned to the financial markets.
If the Dow Jones Industrial Average suddenly falls a couple of thousand points, it is entirely possible that the Federal Reserve could change course.
But once again, we must consider the possibility that they actually want to cause chaos in order to harm Donald Trump politically.
At one time such a notion would have been unthinkable, but we have entered a time when lots of things that were once unthinkable have become reality.
Today, we have news anchors calling the president of the United States all kinds of things on the air, we have leading members of the opposition party openly calling for violence, and we have conservatives and progressives literally fighting each other in the streets.
The elite are desperate to get rid of Donald Trump, and without a doubt the Federal Reserve's recent actions have been bad for the President. That doesn't necessarily mean that malice is involved, but we cannot entirely rule out that possibility either.
But if the Fed really does want to alter the results of the upcoming midterm elections, they have got some work to do. According to the latest map from Real Clear Politics, it appears likely that the Republicans will keep their Senate majority and may even expand it.
And even though it looks like the Democrats will definitely make gains in the House, a late Republican surge has altered the landscape. It is not the most likely result, but there is now a possibility that Republicans could also retain control of the House, and that would be absolutely disastrous for the Democratic Party.
Let us not forget, however, that things can change dramatically in politics in just a few days.
With just a few weeks to go before the 2016 election it looked like Hillary Clinton would win by a landslide, and we all saw what happened.
One major event could change everything, and without a doubt this is going to be one of the most interesting midterm election cycles in ages.
About the author: Michael Snyder is a nationally syndicated writer, media personality and political activist. He is publisher of The Most Important News and the author of four books including The Beginning Of The End and Living A Life That Really Matters.
The Last Days Warrior Summit is the premier online event of 2018 for Christians, Conservatives and Patriots. It is a premium-members only international event that will empower and equip you with the knowledge and tools that you need as global events begin to escalate dramatically. The speaker list includes Michael Snyder, Mike Adams, Dave Daubenmire, Ray Gano, Dr. Daniel Daves, Gary Kah, Justus Knight, Doug Krieger, Lyn Leahz, Laura Maxwell and many more. Full summit access will begin on October 25th, and if you would like to register for this unprecedented event you can do so right here.