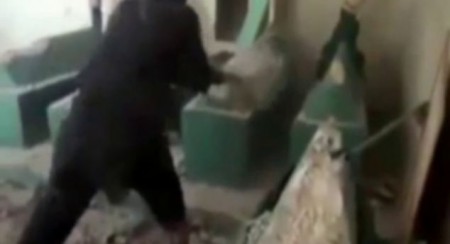 This is the shocking moment ISIS militants took sledgehammers to Iraqi tombstones – smashing them to pieces.
The rebels, who are members of the Islamic State terror group, were filmed attacking centuries-old graves in the north-west city of Mosul in Ninevah province.
Donning balaclavas and black coats, they swung sledgehammers into the tombs, causing pieces of dust and stone to fly through the air.
One of the devastated tombstones belonged to the Prophet Jonah (Younis in Arabic) and was revered by Muslims and Christians alike, according to Iraqi authorities.
(Read the rest of the story here…)