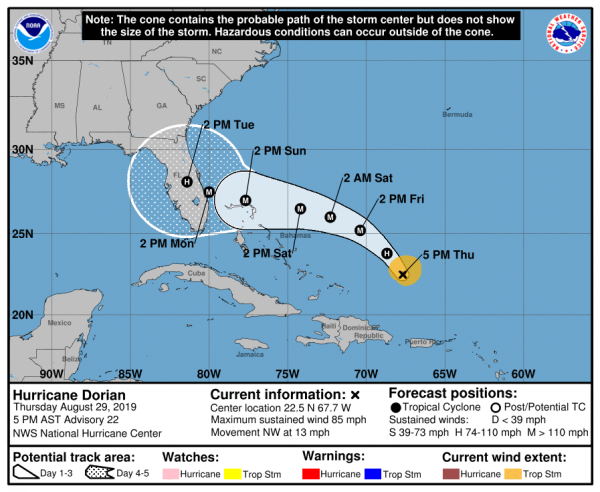 Well, that certainly escalated quickly. On Wednesday we were told that Hurricane Dorian would only be a Category 3 storm when it hits the Florida coastline, but now we are being told that it will be a Category 4 storm. Hurricane Dorian is rapidly gaining strength over very warm waters in the Atlantic Ocean, and the latest forecast has it making landfall somewhere along the east coast of Florida on Monday. If it is officially a Category 4 storm when it arrives, it will be the most powerful storm to hit the east coast of Florida since Hurricane Andrew in 1992. Dorian is being described as a "monster hurricane", and Florida Governor Ron DeSantis has already declared a state of emergency for all 67 counties in the state of Florida.
We will see how things develop over the next several days, but at this point it has become clear that Dorian has the potential to be an exceedingly dangerous storm.
In fact, President Trump himself is telling us that Dorian could be "perhaps one of the biggest" hurricanes that the U.S. has ever seen…
Hurricane Dorian looks like it will be hitting Florida late Sunday night. Be prepared and please follow State and Federal instructions, it will be a very big Hurricane, perhaps one of the biggest!
The reason why meteorologists are so concerned is because Dorian will be traveling over extremely warm waters for the next 48 hours, and that means that we should see "steady intensification during the next 2 to 3 days"…
"The warmer the water, the more moisture is in the air,'' the website for the National Oceanic and Atmospheric Administration says. "And that could mean bigger and stronger hurricanes.''

The weather service said current conditions in the Atlantic "should allow for at least steady intensification during the next 2 to 3 days.''
We haven't seen such favorable conditions for a storm in a very long time, and so ultimately it is difficult to project just how bad this storm will turn out to be.
At this point, authorities are telling us that we should expect winds of "at least 130 mph" when it finally strikes the mainland…
It is in that kind of environment that Hurricane Dorian, currently at Category 1, is expected to gain considerable strength as it heads northwest, with the Sunshine State almost certainly on its path.

Forecasts call for Dorian to increase in intensity and become a Category 4 hurricane, with winds of at least 130 mph, and it could strike the U.S. on Labor Day. The National Hurricane Center says it will "remain an extremely dangerous hurricane through the weekend.''
It is interesting to note that Thursday is the 14th anniversary of Hurricane Katrina hitting New Orleans. We remember what a monstrous storm that was, but the truth is that it was only a Category 3 storm when it made landfall…
New Orleans Mayor LaToya Cantrell commemorated the 14th anniversary of Hurricane Katrina today during a wreath-laying ceremony.

LaToya and other public officials gathered at the Katrina Memorial on Canal Street to remember the victims of the storm, which made landfall near Grand Isle, Louisiana, in 2005 as a Category 3 storm with winds near 127 mph.
So that means that Hurricane Dorian has the potential to be worse than Hurricane Katrina.
And Florida is not the only state that is in danger. Some meteorologists are warning that after it passes over Florida, Dorian could enter the Gulf of Mexico, restrengthen, and make "a second landfall" somewhere along the Gulf Coast…
Though it's forecast to hit somewhere along the east coast of Florida, there "is certainly a chance that the storm could drift into the Gulf of Mexico and produce a second landfall," noted University of Georgia meteorologist Marshall Shepherd in Forbes.
In addition, we shouldn't discount the possibility that Dorian could continue turning south, bypass Florida entirely, and enter the Gulf of Mexico as one of the most dangerous storms that we have ever seen.
Needless to say, that would definitely be a "nightmare scenario", and there are many of us that will be watching the development of this storm with great interest.
We just don't know how this storm is going to play out yet, but store shelves in Florida are already being stripped clean as residents feverishly prepare for what is ahead…
In Port Orange, 40 miles northeast of Orlando, Brooke Koontz found shelves of bread and water nearly empty at a Walmart on Wednesday. There were also slim pickings among canned goods, toiletries and bananas, too.

Thankfully, soon after she arrived, employees brought out a pallet of water.

"It was gone in seconds," she told CNN. "People were trying to race."
Of course if they had gotten prepared in advance, there would be no need to panic.
What is happening in Florida right now should be a lesson for all of us. If a horrific national crisis of some sort were to suddenly erupt, food and other critical supplies would disappear from the stores almost instantly. If you were not one of the lucky few that got to the stores in time, you would be forced to depend on whatever you already had on hand. And for many Americans, that is not a whole lot.
If this storm is as powerful as they are now projecting, it is likely that there will be widespread power outages. One south Florida resident told one reporter that his family was without power for 13 days after Hurricane Irma struck two years ago…
Sanchez, who was filling tanks of gas for generators after he waited his turn, told NBC affiliate WBBH of Fort Myers that he didn't want to have to relive what he and his family went through during Hurricane Irma two years ago.

"We were stuck with no electricity for almost 13 days, so you see I'm going to be prepared," he said.
It certainly appears that this storm will be much more powerful than Hurricane Irma was when it made landfall, and that is really, really bad news for those living in the Sunshine State.
Let's keep them in prayer, and let's also hope that this storm doesn't get into the Gulf of Mexico, because that would be the worst scenario of all for this storm.
About the author: Michael Snyder is a nationally-syndicated writer, media personality and political activist. He is the author of four books including Get Prepared Now, The Beginning Of The End and Living A Life That Really Matters. His articles are originally published on The Economic Collapse Blog, End Of The American Dream and The Most Important News. From there, his articles are republished on dozens of other prominent websites. If you would like to republish his articles, please feel free to do so. The more people that see this information the better, and we need to wake more people up while there is still time.