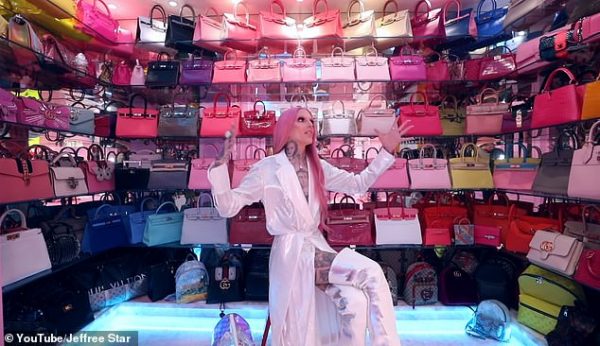 This is America in 2019.  At a time when many churches are more than half empty and approximately 100 churches are shutting down permanently every week, YouTube makeup mogul Jeffree Star has 14 million subscribers, and his latest video in which he reveals the pink steel vault where he keeps his most valuable designer items has already been viewed more than 10 million times…
The 33-year-old makeup mogul, best known for his YouTube channel that boasts over 14 million subscribers, showed off his most valuable pieces of clothing, jewelry, handbags and accessories in his latest video, which has racked up over 10 million views since it was uploaded on Friday, May 10.

The California native revealed that his closet, which boasts millions of dollars worth of designer clothing, footwear and accessories, is guarded by an armed officer who stands just outside the bulletproof door to the closet 24 hours a day. The space can only be accessed with a fingerprint and retina scan.
You can read the rest of this article right here, and here is the video where Star takes his subscribers on a tour of his pink vault…