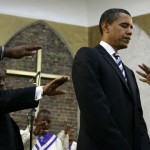 The most important news for Thursday, August 20th, 2009…..
In a call with rabbis about his health care reform plan, Barack Obama ironically said this: "We are God's partners in matters of life and death".
Repeatedly invoking the Bible, President Obama told liberal religious leaders that critics of his health care plan are "bearing false witness".
3 Obama administration cabinet secretaries held a joint news conference where they urged Americans to prepare for a massive outbreak of the swine flu in the fall.  Do they know something that we don't?
Millions of Australians will begin to receive swine flu vaccines starting in early September if everything goes according to plan.
Steve Quayle has documented the growing number of microbiologists that have been dying in suspicious fashion.
Israel is accusing the U.N. nuclear weapons watchdog of holding back incriminating evidence about Iran's progress towards obtaining nuclear weapons.
Former Homeland Security Secretary Tom Ridge's soon-to-be-released book asserts that the Bush Administration attempted to raise the terror alert level prior to the 2004 election to boost their chances of getting re-elected.
The Obama poster that is spreading like wildfire all over the nation is being censored by some of the major social networking sites on the Internet.
A San Francisco newspaper is giving their readers advice on how to enjoy mind-altering drugs at the "Burning Man" festival.
Under a new congressional plan to fight global warming, new forests would spread across the American landscape, replacing both pasture and farm fields.  Is that what we need with the world being on the verge of a major food crisis?
Lastly, a government test of fish pulled from nearly 300 streams throughout the United States found every one of them contaminated with some level of mercury.