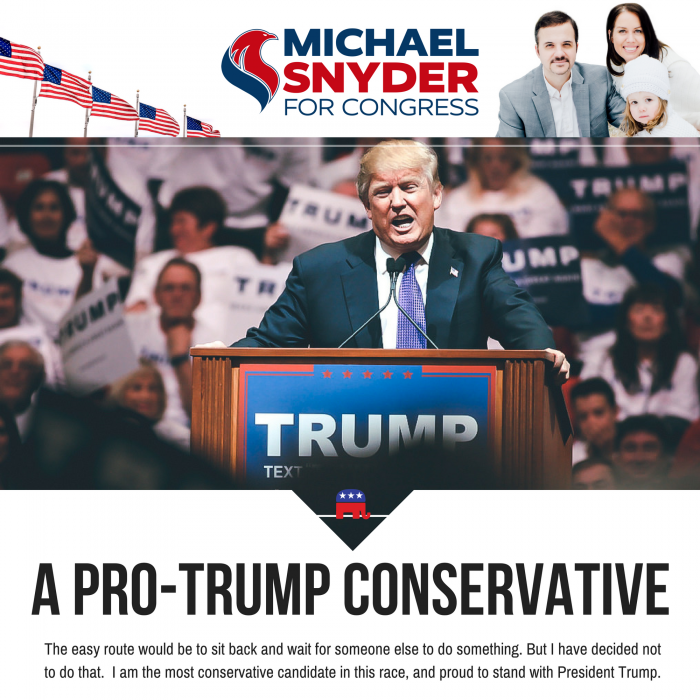 Did you know that Idaho has the fastest growing population of any state in the entire country? I was very surprised when my friend Tom mentioned this, and I decided to go check it out for myself. And I found out that it is actually true. In particular, north Idaho is growing by leaps and bounds. It seems like half the people that I meet have moved into the area within the past 10 years, and most of them are coming from liberal hellholes such as California. People are sick and tired of leftist control freaks trying to micromanage every aspect of their lives, and so they are flocking to places such as north Idaho were people are still trying to live free.
As a result of all of this migration, Idaho has become one of the most conservative states in the entire nation. There are two congressional districts in Idaho, and right now the first congressional district is being represented by Raul Labrador. He is moving on to run for governor, and so we have a situation where there is an open seat.
I am one of the six people that are running to replace Raul Labrador, and this is the most wide open congressional race that I have seen in my entire life. The latest numbers that we have indicate that up to 70 percent of voters in this district are undecided. None of the candidates has very much name recognition or voter support at this point, and the Republican primary is less than five months away.
My team is working on a brand new strategy to get our message to the 800,000+ people living in this district much more effectively than the other candidates can, but at this moment some of the other candidates have been able to raise a little bit more money than we have. Our absolutely crucial December 31st FEC fundraising deadline is just 8 days away, and this is our last chance to make a good impression with Republicans on the national level. Unfortunately, the March 31st deadline is simply too close to the primary to matter. If you plan to help us with this campaign, we could really, really use your help right now…
https://www.michaelsnyderforcongress.com/contribute.html
Many have told us that they will write us big checks if we win the primary. But at that point it will be a done deal. This district is considered to be very, very safe for Republicans because it is so conservative, and so whoever wins the Republican primary will be the next member of Congress from this district.
We plan to launch the next phase of our campaign at the beginning of January, and from that point there will be just four and a half months until election day. Over that time we have to get our message to more than 800,000 people, and we can do it cheaper than the other guys can, but we are still going to need plenty of resources. I am asking everyone that is willing to stand with us to consider donating at this extremely critical time…
https://www.michaelsnyderforcongress.com/contribute.html
In the end, this race is going to be just like races all over the country in 2018. It is going to be a referendum on President Trump, and I am the pro-Trump option in this race.
Whoever is elected in this district is going to make decisions that affect every man, woman and child in the entire country once they get to Washington. Do you want this open seat to be filled by someone that is going to block President Trump's agenda, or do you want someone that will fight like crazy to implement the Make America Great Again agenda? If you stand with President Trump, the best thing that you can do for Trump in 2018 is to support pro-Trump candidates for Congress such as myself…
https://www.michaelsnyderforcongress.com/contribute.html
Over the next four months I will write when I can, but I am going to be pouring everything that I have got into this campaign. It is going to be an immense sacrifice of time, energy, emotion and income, but there is no other choice. If one of the establishment candidates takes this open seat, it will be a major disaster.
I haven't told you all what I have been going through behind the scenes. We are being brutally dragged through the mud behind closed doors, and one of the other candidates has viciously attacked my faith repeatedly.
There are certainly lines that must never be crossed in a campaign, and attacking someone's faith is one of them. I am a Bible-believing Christian, and I won't apologize for that.
I believe that good and decent people will have the last laugh in this case, and that the people of Idaho will choose to reject any candidate that attacks the faith of Bible-believing Christians.
If you would like to help me take this fight all the way to the finish line, please prayerfully consider financially supporting us today…
https://www.michaelsnyderforcongress.com/contribute.html
The good news is that none of the other candidates is doing very well so far. Personally, I thought that a couple of them would be doing so much better, but they are blowing it.
That has given us time to get our act together, and we have needed it. Now we have a great plan to get our very simple message to more than 800,000 people over the next four months, and the only ingredient that we are missing is the resources that are necessary in order to execute that plan.
I will just be very honest and tell you that I need your help. We literally need a miracle, because we are way behind our goal for our fundraising deadline on December 31st, and over the next couple of months somehow we need to raise enough money to reach hundreds of thousands of undecided voters…
https://www.michaelsnyderforcongress.com/contribute.html
If someone else raises more money and does a better job of reaching the undecided voters, that could be the difference on election day.
But I do not believe that will happen. I believe that members of the Trump army all over the nation will rise up and form an unbeatable team behind pro-Trump candidates such as myself. Just like in November 2016, if we can activate all of the "deplorables" out there then there will be no way that we can lose.
The fate of the Trump movement is in our hands. For many years, I was convinced that we would never be able to wrestle control of the government away from the establishment, but Donald Trump pulled off a miracle. He was able to win the presidency, but the battle is far from over.
Now we must take Congress, and we are asking for your help. The future of this nation is literally hanging in the balance, and this is a battle that we cannot afford to lose.