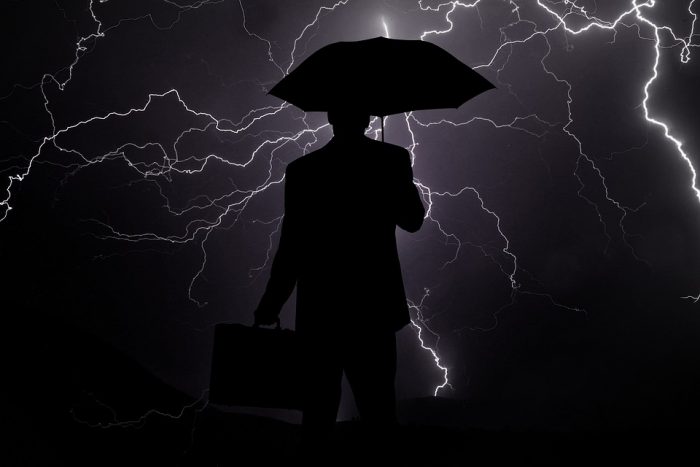 It isn't going to be a surprise when U.S. stock prices fall 50, 60 or 70 percent from where they are today. The only real surprise is that it took this long for it to happen. Even after falling 362 points on Tuesday, the Dow Jones industrial average is still ridiculously high. In fact, the only two times in our entire history when stocks have been this overvalued were right before the stock market crash of 1929 and right before the dotcom bubble burst. Not even before the financial crisis of 2008 were stock valuations as absurd as they are right now.
At one point on Tuesday, the Dow had declined by more than 400 points, and we have not seen this sort of panic in the stock market in a very long time. In fact, we have to go all the way back to June 24, 2016 to find the last time that the Dow fell by at least this much. The Dow has dropped by triple digits on back to back days for the first time since last April, and a lot of analysts are wondering what is coming next.
Of course most in the financial community have been waiting for some sort of a decline, because even mainstream analysts are openly admitting that what we have been witnessing is "not sustainable"…
"We've had a unilateral move higher [in stocks] to start things off and people are realizing this is not sustainable," said Art Hogan, chief market strategist at B. Riley FBR. "You're also seeing some cracks in the global story with interest rates rising."
But where will things go from here?
Some believe that this is just a bump in the road and that the markets still have room to grow. But others are warning that this "is not the time to take on more risk"…
Howard Marks warned investors about investing more funds in the stock market at its current level.

"We are living in a low return world, characterized by significant uncertainty," Marks said on CNBC's "Halftime Report" Tuesday. "This is not the time to take on more risk. Things have been going awful well for almost 10 years. That's not the time to turn up the wick."
And then there are the bears such as John Hussman that are warning that we are on the precipice of one of the worst stock market crashes in American history…
I expect the S&P 500 to lose approximately two-thirds of its value over the completion of this cycle. My impression is that future generations will look back on this moment and say "… and this is where they completely lost their minds."
I agree with John Hussman's assessment. Stock prices would need to decline by at least 50 percent from current levels in order for stock valuations to get back to their long-term averages.
And even though it may take a while, stock prices always return to their long-term averages.
Nothing about the long-term outlook has changed. I have been warning about a devastating stock market crash for a very long time, and I will continue to warn my readers about one. Because whether it happens next week, next month or next year, the reality of the matter is that all throughout our history stocks have always crashed after stock valuations have soared to these kinds of irrational levels.
On a personal note, I want to apologize for not writing very much this month. I just returned from a very long campaign trip, and our hard work on the campaign trail has prevented me from getting much work done.
The good news is that the campaign is going incredibly well. We are far ahead of where we thought we would be at this point, and with less than four months to go the race is incredibly close.
On Sunday, the very first debate was held in Coeur d'Alene, and all of the candidates were there. To say that the fireworks were flying would be a major understatement. If you have not seen the debate yet, you can watch it on YouTube right here.
The overwhelming consensus was that we were the hands down winner of this six-way debate. Here are some of the comments that were made by people that were watching the debate online as it was happening…
-"Michael was leaps and bounds set apart from the herd of politicians on that panel"
-"Michael has been more knowledgeable, pro-active and touched more people with his conservative message than everyone else up there combined"
-"Michael outshines them all! It is not about the money! it is about the power of people and the deplorables are WIDE AWAKE these days and we want the the right leaders in Congress to support our President!!!!"
-"Michael Snyder was the hands down Winner!! Great Job!!"
-"Michael Snyder was full of fervor and he spoke from the spirit! He is not an established candidate, he's a true statesman!"
There were dozens more like that, but I think that you get the point. It was exceedingly difficult to get all of the candidates to agree to come to this event, because there were some that were afraid that this sort of thing might happen, and now it will be even harder to get all of them to come out for similar events in the future.
The bad news is that a couple of my opponents are better funded than we are, and we need to close that gap. Thanks to a tremendous surge in interest in our campaign, we desperately need to print up more campaign materials. If you would like to help us print up more signs, more brochures and more mailers, you can contribute online right here…
https://www.michaelsnyderforcongress.com/contribute.html
May 15th is right around the corner, and if we all pull together we can win this race. We need more people praying, more people volunteering, and more people donating. This is our opportunity to take our government back, and if you believe in our positive conservative message, I truly hope that you will join our team.
Michael Snyder is a pro-Trump candidate for Congress in Idaho's First Congressional District, and you can learn how you can get involved in the campaign on his official website. His new book entitled "Living A Life That Really Matters" is available in paperback and for the Kindle on Amazon.com.