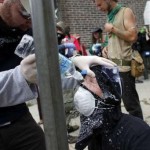 The most important news for Thursday, September 24th, 2009…..
Police threw canisters of pepper spray and tear gas at demonstrators protesting the Group of 20 summit in Pittsburgh on Thursday.  Authorities had expressed hope that these protests would not be as violent as other G20 protests have been, but so far that is not the case.  The police are even unleashing sound cannons in Pittsburgh as the video posted below clearly demonstrates…..
Will there be a push towards a new global currency at the G20 summit?
Did Barack Obama call for a "world order" during his address to the United Nations?
The current EU president says that this "new globalization" requires global governance.
Brazilian President Luiz Inacio Lula da Silva is also calling for a new world economic order in the wake of the global financial crisis.
During his speech to the U.N., Libyan leader Muammar Gaddafi demanded to know who was behind the killing of JFK and wondered whether swine flu was a biological weapon created in a military laboratory.
A law enforcement official said Wednesday that a U.S. Census worker was found hanged from a tree near a Kentucky cemetery and had the word "fed" scrawled on his chest.
Swiss banks are proposing a global tax collection service.  Isn't that just what we need?
At least one locality wants to make it mandatory for firefighters to take the swine flu vaccine.
Newly declassified files have revealed the FBI's absolutely massive data-mining program.
The FBI is developing a new biometrics system that will include DNA records, 3D facial imaging, palm prints and voice scans, blended to create what's known as "multi-modal biometrics".
NASA is now openly admitting that there is quite a bit of water on the Moon.
Federal researchers have discovered that waters downstream of pharmaceutical plants are significantly more contaminated with drug residue than waters elsewhere in the nation.
About 1,100 police officers working with nearly 300 federal agents carried out a series of raids on a notorious Los Angeles gang earlier this week.
One of the latest disturbing trends among children in the U.K. is to wear something known as "shag bands".
Lastly, a chilling school indoctrination video in which children are forced to compose and sing a song that praises Barack Obama has surfaced on YouTube.