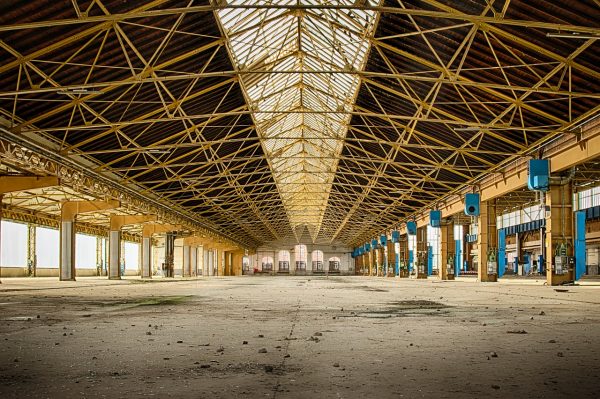 The long-term trends that are gutting the U.S. economy continue to get even worse. As you will see below, our goods trade deficit with the rest of the world hit a brand new record high in 2018, and most Americans simply do not understand why this is such a massive problem. Every year, we buy far more from the rest of the world than they buy from us, and that means that the amount of money going out of the country far surpasses the amount that is coming in. This constant outflow of cash is one of the reasons why we are unable to pay our bills, and so we have to keep begging the rest of the world to lend us our money back. Needless to say, this is one of the big factors that has fueled our 22 trillion dollar national debt. In addition, when we run absolutely massive trade deficits we lose factories and workers to other countries. Since China joined the WTO in 2001, the United States has lost more than 60,000 factories. As factories keep closing down, community after community is being gutted all across America, and without a doubt this is truly a major national crisis.
Many had been hoping that we could start to turn things around, but instead last year was an absolute disaster.
According to the Commerce Department, our goods trade deficit with the rest of the world was 891.3 billion dollars in 2018. That was a 12.4 percent increase from the year before, and it represented a brand new all-time record high.
If we stay on this path, it is a recipe for national economic suicide. We will continue to be unable to pay our bills, we will continue to have to beg the rest of the world for increasing amounts of money, and our national debt will continue to explode.
And of course countless numbers of factories will continue to shut down and countless numbers of workers will continue to lose their jobs.
We can see this happening all around us, but most Americans are not mentally connecting the factory closings and the layoffs to our horrific trade deficit. On Wednesday, the very last vehicle rolled off the assembly line at the GM plant in Lordstown, Ohio…
General Motors is ending production at its Lordstown, Ohio plant Wednesday — two days earlier than previously expected.

A GM (GM) spokesperson said that's when the plant will churn out its last Chevy Cruze sedan. At that point, the factory will be unallocated, which means no vehicles will be assigned to that facility.
That factory is just the first of four U.S. factories that GM is shutting down this year.
Needless to say, a lot of those workers don't know what they are going to do next. One worker that had worked at the plant for 17 years said that seeing that last car roll off the assembly line "was a kick in the gut"…
Signs with sayings such as 'Save this Plant' were scattered outside the plant where about 100 workers gathered to say goodbye in the cold.

'It's frustrating,' said Jeff Nance, who has worked at Lordstown for 17 years. 'I'm angry and bitter. Watching that last car go by was a kick in the gut.'
In the end, Lordstown is probably destined to become another rotting, decaying shell of a town just like we have seen happen to so many other formerly great communities in the Rust Belt.
Of course it isn't just big corporations like GM that are cutting jobs.
Right now, small businesses are getting rid of workers at the fastest pace that we have seen in more than five years. A major economic slowdown is here, but most Americans still don't seem to realize what is happening.
In recent days, there had been some optimism that a new trade deal with China would soon bring some positive momentum to the economy, but the status of that deal is very much up in the air.
And the U.S. military seriously angered China this week when they flew two B-52 bombers over disputed airspace in the South and East China Seas…
Two US Air Force B-52H Stratofortress long-range bombers, based in Guam, participated in "routine training missions" on Monday by flying through the disputed airspaces over the South and East China Seas. As one bomber "conducted training in the vicinity of the South China Sea," the other practiced off the coast of Japan in "coordination with the US Navy and alongside our Japanese air force," US Pacific Air Forces said in a statement.
Meanwhile, the trade war between Canada and China continues to escalate as well…
Canada's largest grain processor said Tuesday that Beijing has canceled its registration to ship canola seed to China, fueled by the arrest of a top executive for the Chinese tech giant Huawei, The Wall Street Journal reported.

The move suggests that rising diplomatic tensions between China and Canada are damaging commerce between the two countries. Tensions have already crushed hopes that senior officials in Ottawa and Beijing would develop further trade ties.
As long as the U.S. and Canada are holding Huawei CFO Meng Wanzhou, relations with China are going to continue to deteriorate.
And the truth is that the U.S. and Canada are not going to let her go.
Meanwhile, the U.S. economy continues to slide toward a new recession, and even the president of the New York Fed is now warning that economic conditions are likely to slow down "considerably" this year…
The US economy should slow "considerably" in 2019 as the boost from last year's economic stimulus fades, the president of the New York Federal Reserve Bank said Wednesday.

Amid economic uncertainty, the Federal Reserve could "wait" before raising interest rates again, John Williams said in remarks to the Economic Club of New York.
There is a reason why everyone seems so pessimistic about the economy right now. All of the numbers say that another recession is coming, and it may arrive a lot sooner than most people had anticipated.
About the author: Michael Snyder is a nationally-syndicated writer, media personality and political activist. He is the author of four books including Get Prepared Now, The Beginning Of The End and Living A Life That Really Matters. His articles are originally published on The Economic Collapse Blog, End Of The American Dream and The Most Important News. From there, his articles are republished on dozens of other prominent websites. If you would like to republish his articles, please feel free to do so. The more people that see this information the better, and we need to wake more people up while there is still time.