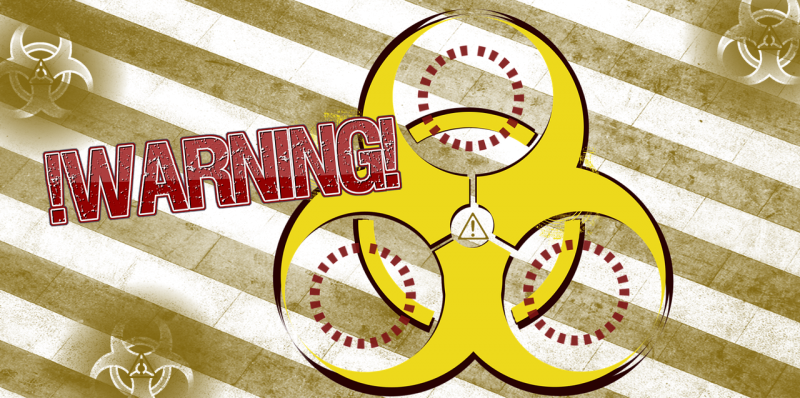 Monkeypox is a very dangerous disease that causes horrifyingly ugly sores on the skin, and scientists are telling us that it can be spread by human to human contact.  So the fact that there is now a confirmed case of monkeypox in Dallas, Texas should be a concern for all of us.  Could it be possible that this is the start of a new pandemic?  For now, officials are insisting that the risk of a full-blown pandemic is very low, but we will monitor this situation.  Those that follow my work on a regular basis know that I am constantly watching for the next potential major outbreak, and I am very much hoping that this is not it.  The good news is that we only have one confirmed U.S. case so far.  According to the CDC, the infected individual flew from Nigeria to Atlanta on July 8th, and then he flew from Atlanta to Dallas on July 9th.  The following comes directly from the official CDC website…
The Centers for Disease Control and Prevention (CDC) and the Texas Department of State Health Services confirmed on July 15 a case of human monkeypox in a U.S. resident who recently traveled from Nigeria to the United States. The person is currently hospitalized in Dallas. CDC is working with the airline and state and local health officials to contact airline passengers and others who may have been in contact with the patient during two flights: Lagos, Nigeria, to Atlanta on July 8, with arrival on July 9; and Atlanta to Dallas on July 9.

Travelers on these flights were required to wear masks as well as in the U.S. airports due to the ongoing COVID-19 pandemic. Therefore, it's believed the risk of spread of monkeypox via respiratory droplets to others on the planes and in the airports is low. Working with airline and state and local health partners, CDC is assessing potential risks to those who may have had close contact with the traveler on the plane and specific settings.
If this individual did not successfully spread the disease to anyone else before his condition was identified, the danger may be fully contained at this point.
The infected individual was wearing a mask on both flights, and that likely reduced the risk of other passengers being exposed to respiratory droplets…
Monkeypox is an infectious disease that can be spread through contact, especially through respiratory droplets, according to the CDC. The disease can also spread between human and animal contact.

Health officials believe the risk of spread through respiratory droplets on the flight was low due to passengers being required to wear face masks amid the continuing COVID-19 pandemic.
The incubation period for monkeypox can range from 5 to 21 days, and the initial symptoms are similar to many other illnesses…
Fever
Headache
Muscle aches
Backache
Swollen lymph nodes
Chills
Exhaustion
Eventually, huge sores start to erupt on an infected person's body, and that is truly the worst part of the disease.
According to the CDC, these huge sores usually begin to appear within 1 to 3 days after a fever develops.
So we'll wait and see if anyone else starts developing monkeypox sores.  Hopefully that will not be the case.
There are actually 2 different versions of monkeypox, and the World Health Organization says that the version that originates from the Congo Basin has a much higher death rate…
There are two clades of monkeypox virus, the West African clade and Congo Basin (Central African) clade. Although the West African clade of monkeypox virus infection sometimes leads to severe illness in some individuals, disease is usually self-limiting. The case fatality ratio for the West African clade has been documented to be around 1% whereas for the Congo Basin clade it may be as high as 10%.
Fortunately, the victim in Dallas appears to have the West African version of the disease.
But authorities are also assuming that the West African version of the disease has not mutated into something more dangerous.  As we have seen with COVID, diseases can often mutate very rapidly.
And it should be noted that this newly confirmed case in Dallas is not the first case that has been identified outside of Africa in 2021.  In fact, prior to this incident there have been confirmed cases in the UK, Israel and Singapore…
Prior to the current case, there have been at least six reported monkeypox cases in travelers returning from Nigeria (including cases in the United Kingdom, Israel, and Singapore). This case is not related to any of these previous cases. In the United Kingdom, several additional monkeypox cases occurred in people who had contact with cases.
Why is this disease suddenly spreading more widely?
The very first human case of monkeypox was identified in the Democratic Republic of Congo in 1970, and since that time the disease has never caused a global pandemic.
So if the West African version of the disease has not mutated, we may not have anything to be concerned about.
Personally, my hope is that this turns out to be nothing.
But without a doubt, we live at a time when scientists all over the globe are experimenting with diseases like never before.
Sometimes the goal is to help humanity, but in other instances very dangerous bugs are purposely being weaponized.
Ultimately, it is just a matter of time before another huge mistake happens and another major global pandemic is unleashed.  I believe that we have entered an era of "pestilences", and I also believe that what is ahead of us will be far worse than what we have gone through with COVID.
So I will keep watching.
And I would encourage you to keep watching as well, because the clock is ticking.
***It is finally here! Michael's new book entitled "7 Year Apocalypse" is now available in paperback and for the Kindle on Amazon.***
About the Author: My name is Michael Snyder and my brand new book entitled "7 Year Apocalypse" is now available on Amazon.com.  In addition to my new book I have written five others that are available on Amazon.com including  "Lost Prophecies Of The Future Of America", "The Beginning Of The End", "Get Prepared Now", and "Living A Life That Really Matters". (#CommissionsEarned)  By purchasing the books you help to support the work that my wife and I are doing, and by giving it to others you help to multiply the impact that we are having on people all over the globe.  I have published thousands of articles on The Economic Collapse Blog, End Of The American Dream and The Most Important News, and the articles that I publish on those sites are republished on dozens of other prominent websites all over the globe.  I always freely and happily allow others to republish my articles on their own websites, but I also ask that they include this "About the Author" section with each article.  The material contained in this article is for general information purposes only, and readers should consult licensed professionals before making any legal, business, financial or health decisions.  I encourage you to follow me on social media on Facebook and Twitter, and any way that you can share these articles with others is a great help.  During these very challenging times, people will need hope more than ever before, and it is our goal to share the gospel of Jesus Christ with as many people as we possibly can.