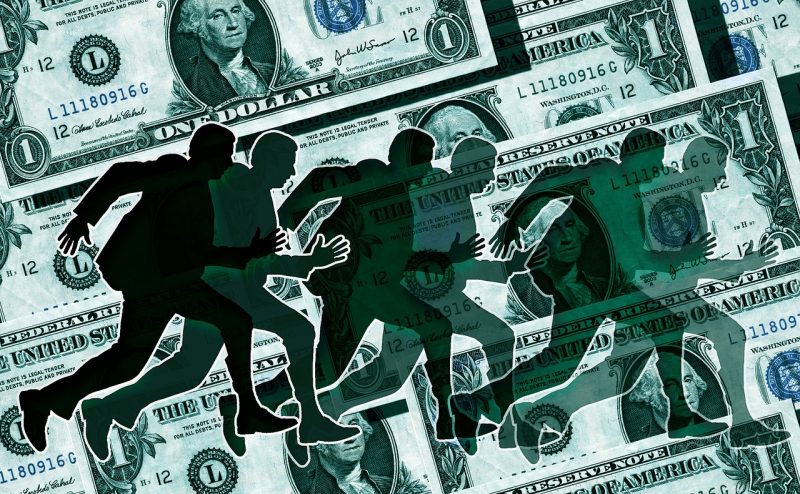 Is time finally running out for "the bubble to end all bubbles"?  Over the past year, we have seen stock prices rise to levels that are completely and utterly absurd, and many have pointed out that we are currently in the largest stock market bubble in the entire history of our nation.  Of course this bubble will end the way that all of our other stock market bubbles eventually ended, and recent market activity has a lot of people wondering if the time for that is drawing near.  Signs of trouble have been percolating on Wall Street for weeks, and on Monday we finally witnessed an eruption of full-blown fear.  The Dow Jones Industrial Average was down 725 points, and that represented the worst day for the index since last October.  But one really bad day is not a crisis, and even though many individual stocks have already plunged into bear market territory, we have a long, long way to go before people start using the word "crash".  In fact, I don't think that anyone should even think of using the word "crash" until the Dow drops below 30,000.
But without a doubt, a crash is inevitably coming.
Whether it happens this month, next month or next year, stock prices will plummet from these ridiculously inflated levels.
As for the plunge that happened on Monday, many are blaming it on fears about the "Delta variant"…
"It's a bit of an overreaction, but when you have a market that's at record highs, that's had the kind of run we've had, with virtually no pullback, it becomes extremely vulnerable to any sort of bad news," said Randy Frederick, vice president of trading & derivatives at Charles Schwab. "It was just a matter of what that tipping point was, and it seems we finally reached that this morning" with worries about the delta variant.
To me, there are other issues that are of much greater concern, but apparently this is what is spooking investors this week.
According to CNBC, the number of newly confirmed COVID cases per week has more than doubled over the past month…
Covid cases have rebounded in the U.S. this month, with the delta variant spreading among the unvaccinated. The U.S. is averaging nearly 26,000 new cases a day in the last seven days through Sunday, up from a seven-day average of around 11,000 cases a day a month ago, according to CDC data. Cases were already flaring up around the world because of the delta variant.
Now that the market has started to fall, some experts are warning that the drop could be quite substantial.
For example, one Morgan Stanley strategist believes that we could eventually see a "correction" of 10 to 20 percent…
"The market appears ready to take on a more defensive character as we experience a meaningful deceleration in earnings and economic growth," Morgan Stanley chief U.S. equity strategist Mike Wilson said in a note Monday. "Market breadth has been deteriorating for months and is just another confirmation of the mid-cycle transition, in our view. It usually ends with a material (10-20%) index level correction."
Actually, if that is the worst that happens we will be quite fortunate.
In recent days, the mood on Wall Street has shifted dramatically.  In fact, the CNN Fear & Greed Index is now sitting at 16 which is considered to be in the "extreme fear" range, and the VIX has been soaring.
As our friends at Zero Hedge have pointed out, the last time we witnessed this much fear on Wall Street the S&P 500 was absolutely plummeting…
With the S&P 500 around 3.5% off its record highs, we note that fear has exploded. The last time fear was this high, the S&P was down 40%!…
We shall watch and see what happens this time around.
Zero Hedge has also pointed out that Goldman Sachs has been aggressively selling off billions of dollars worth of stocks recently…
What is even more remarkable is just how much Goldman has harvested so far in 2021: as shown below, having started with a $20BN equity portfolio which has enjoyed a $5BN increase in market prices, Goldman dumped a whopping $5.5 billion of its equity assets so far (excluding a modest $1.5BN in purchases) or more than a quarter of its entire portfolio as of Dec 31.
This is not normal for Goldman Sachs.
In fact, you have to go all the way back to just before the financial crisis of 2008 to find another time when they did such a thing…
The last time Goldman was "aggressively" selling into a "supportive" market? Well, we have to go back all the way to 2007 and 2008 when Goldman was busy creating the very CDOs which its prop desk would then "aggressively" short.

We all remember how prophetic that particular move turned out to be…
That is "interesting" to say the least.
But as big financial institutions such as Goldman Sachs are dumping stocks, talking heads on television continue to assure all of us that a wonderful new era of great prosperity is just ahead.  Just check out what Bill Ackman told CNBC on Monday…
Billionaire investor Bill Ackman said Monday that the spread of the delta variant doesn't pose a significant threat to the economic reopening, and he sees interest rates rising on the back of the big comeback.

"I hope what it does is that it motivates anyone who doesn't get the vaccine to get the vaccine. I don't think it's going to change behavior to a great extent," Ackman said in a interview on CNBC's "Squawk Box." "You are going to see a massive, my view, economic boom. … We are going to have an extremely strong economy coming in the fall."
Wouldn't it be nice if he was right?
I would love to see a "massive" economic boom.
Unfortunately, I don't believe that is going to happen.  In fact, I believe that we are rapidly approaching some of the most difficult economic times that we have ever seen.
The laws of economics cannot be ignored forever.  The federal government is now 28 trillion dollars in debt, we are in the midst of the greatest corporate debt binge of all time, and U.S. consumers continue to go into debt as if tomorrow will never arrive.
But tomorrow always arrives eventually, and our "tomorrow" is going to be a day of reckoning that is going to be far more painful than most people would dare to imagine.
***It is finally here! Michael's new book entitled "7 Year Apocalypse" is now available in paperback and for the Kindle on Amazon.***
About the Author: My name is Michael Snyder and my brand new book entitled "7 Year Apocalypse" is now available on Amazon.com.  In addition to my new book I have written five others that are available on Amazon.com including  "Lost Prophecies Of The Future Of America", "The Beginning Of The End", "Get Prepared Now", and "Living A Life That Really Matters". (#CommissionsEarned)  By purchasing the books you help to support the work that my wife and I are doing, and by giving it to others you help to multiply the impact that we are having on people all over the globe.  I have published thousands of articles on The Economic Collapse Blog, End Of The American Dream and The Most Important News, and the articles that I publish on those sites are republished on dozens of other prominent websites all over the globe.  I always freely and happily allow others to republish my articles on their own websites, but I also ask that they include this "About the Author" section with each article.  The material contained in this article is for general information purposes only, and readers should consult licensed professionals before making any legal, business, financial or health decisions.  I encourage you to follow me on social media on Facebook and Twitter, and any way that you can share these articles with others is a great help.  During these very challenging times, people will need hope more than ever before, and it is our goal to share the gospel of Jesus Christ with as many people as we possibly can.