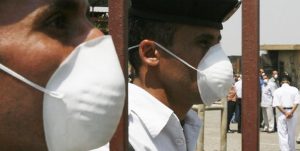 The most important news for Tuesday, September 2nd, 2009…..
A 35 year old Italian tourist in Egypt is one of three people believed to have been infected with the H1N1 swine flu virus as well as the H5N1 bird flu virus.
Barack Obama's own website, "Organizing For America" had an article up earlier today that described opponents of Obamacare as "Right-Wing Domestic Terrorists who are subverting the American Democratic Process."
The CDC is warning neurologists to look out for cases of the nerve disease known as Guillain-Barre syndrome in people who take the swine flu vaccine.
WorldNetDaily has posted an outstanding article on the controversy surrounding the Massachusetts "Pandemic Response Bill" 2028 and the nationwide debate about swine flu vaccination.
Meanwhile, the U.S. government is partnering with Elmo from Sesame Street to get their message about the swine flu out to kids.
298,000 more American jobs were lost in the month of August.
Barack Obama will deliver a major prime time address to Congress next week on his plans to reform the nation's health care system.
Barack Obama also took the opportunity to praise Islam at a Ramadan dinner held recently inside the White House.
Some leading doctors in the U.K. are warning that patients with terminal illnesses are often being made to die prematurely under an NHS scheme to help end their lives "with dignity".
One expert is claiming that of the 13 million abortions in China each year, most of them are forced abortions.
Are you ready for nanotechnology in your food?
Why does Planned Parenthood give out a "Margaret Sanger award" every year when history tells us that she held personal beliefs that were offensive to the extreme.
A major scientific institution in the U.K. has published a comprehensive review of possible ways to "engineer the climate" in order to reverse "global warming".
Lastly, Japan's new first lady believes that she visited the planet Venus in a UFO.  Seriously.