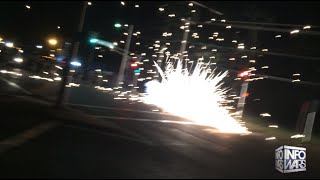 In Ferguson, Missouri, Infowars reporter Joe Biggs was shot in the kidneys Wednesday night by St. Louis Co. Police using flash bangs and rubber bullets during protests over the police shooting of an unarmed teenager four days ago.
Additionally, the police were hunting down journalists amongst the demonstrators after arresting two prior to the assault.
The militarized police, equipped with combat armor and Mine-Resistant Ambush Protected (MRAP) vehicles, unloaded on the media and demonstrators near the burnt down QuikTrip gas station on West Florissant Ave. around 9pm Central after someone threw a Motolov cocktail on top of a nearby car wash, lighting it completely on fire.
"I got shot in the kidneys with one of those rubber rounds and had two gas canisters come right at me," Biggs reported. "When I got up, I couldn't see so I went in one direction and lost [Infowars reporter] Jakari Jackson and [Infowars cameraman] Josh Owens."
Owens made it inside of a car with a reporter from Vice News but police pinned down their vehicle and shot flash bangs and tear gas at them.
(Read the rest of the story here…)