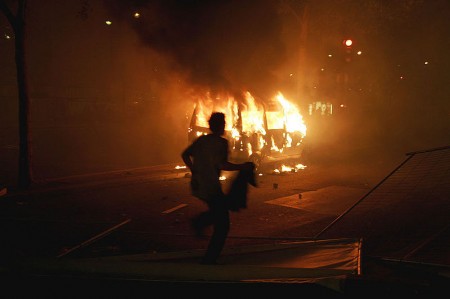 Hundreds of pro-Palestinian protesters descended upon "Little Jerusalem," the Jewish neighborhood in the suburb of Sarcelles, north of Paris, on Sunday. Rioters threw a Molotov cocktail at a religious institution next to the synagogue, setting alight a Jewish pharmacy and mini-market, burned vehicles, destroyed property and wreaked havoc at the city's train station while police tried to secure the area.
This neighborhood is home to one of France's biggest Jewish communities, its members residing in a block of buildings centered around a synagogue and a Jewish school. Outside "Little Jerusalem," the great majority of the population is of African and North African descent.
The situation here has been tense for more than a decade following several anti-Semitic attacks, so when pro-Palestinian organizations called for a protest at the local train station just days after clashes had erupted outside three Paris synagogues – it seemed obvious that things could get out of hand.
(Read the rest of the story here…)