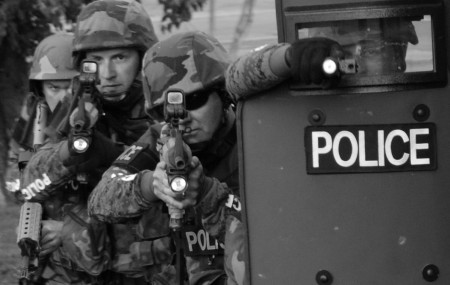 Consider what happened to Nicole Gainey, the Florida mom who was arrested and charged with child neglect for allowing her 7-year-old son to visit a neighborhood playground located a half mile from their house.
For the so-called "crime" of allowing her son to play at the park unsupervised, Gainey was interrogated, arrested and handcuffed in front of her son, and transported to the local jail where she was physically searched, fingerprinted, photographed and held for seven hours and then forced to pay almost $4000 in bond in order to return to her family. Gainey's family and friends were subsequently questioned by the Dept. of Child Services. Gainey now faces a third-degree criminal felony charge that carries with it a fine of up to $5,000 and 5 years in jail.
For Denise Stewart, just being in the wrong place at the wrong time, whether or not she had done anything wrong, was sufficient to get her arrested.
The 48-year-old New York grandmother was dragged half-naked out of her apartment and handcuffed after police mistakenly raided her home when responding to a domestic disturbance call. Although it turns out the 911 call came from a different apartment on a different floor, Stewart is still facing charges of assaulting a police officer and resisting arrest.
(Read the rest of the story here…)