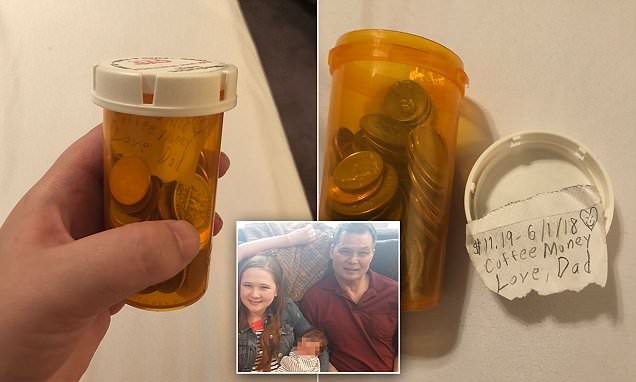 This is one of the most heartwarming stories that I have come across in a very long time.
Down in Texas, a father that has been severely mentally and physically disabled since 1981 due to a traffic accident just did a really beautiful thing.
Over time, he carefully saved up $11.19 in spare change, and used it to treat his daughter to coffee…
Morgan Porterfield from Katy, Texas posted two pictures showing an old pill bottle filled with spare change to her Twitter page. Inside the container was a note that read: '$11.19 – 6/1/18 coffee money. Love, Dad.' Morgan revealed that her dad Jim has been unable to work. Injured by a drunk driver in 1981, Jim has lived with several physical mental and physical disabilities for nearly 40 years. Despite working in an office for 30 years, he is now unable to work or earn an income. He still decided to save his pocket change over time to treat his daughter.
Stories like this help to remind us about what really matters.  May that father be greatly blessed for making such an effort.
As some know my dad is mentally and physically handicapped and so especially now that he's older he's unable to work or earn an income but he's been saving his pocket change for the past month for some reason and I thought nothing of it til I came home from work to this today❤️ pic.twitter.com/rdEqu6u8rf

— Morgan Porterfield (@morganp_2018) June 2, 2018