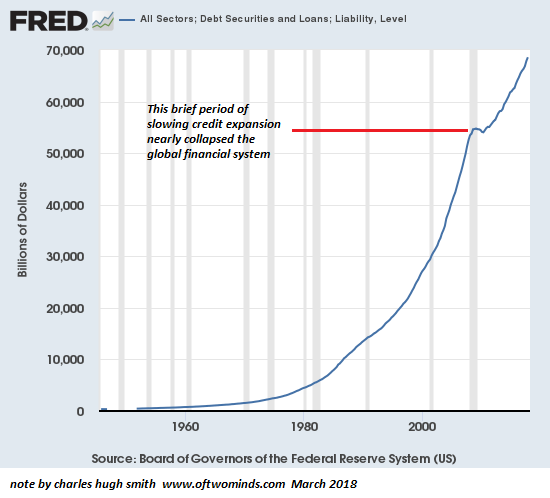 Today, America is nearly 70 trillion dollars in debt, and that debt is shooting higher at an exponential rate. Usually most of the focus in on the national debt, which is now 21 trillion dollars and rising, but when you total all forms of debt in our society together it comes to a grand total just short of 70 trillion dollars. Many people seem to believe that the debt imbalances that existed prior to the great financial crisis of 2008 have been solved, but that is not the case at all. We are living in the terminal phase of the greatest debt bubble in history, and with each passing day that mountain of debt just keeps on getting bigger and bigger. It simply is not mathematically possible for debt to keep on growing at a pace that is many times greater than GDP growth, and at some point this absurd bubble will come to an abrupt end. So those that are forecasting many years of prosperity to come are simply being delusional. Our current standard of living is very heavily fueled by debt, and at some point we are going to hit a wall.
Let's talk about consumer debt first. Excluding mortgage debt, consumer debt is projected to hit the 4 trillion dollar mark by the end of the year…
Americans are in a borrowing mood, and their total tab for consumer debt could reach a record $4 trillion by the end of 2018.

That's according to LendingTree, a loan comparison website, which analyzed data from the Federal Reserve on nonmortgage debts including credit cards, and auto, personal and student loans.

Americans owe more than 26 percent of their annual income to this debt. That's up from 22 percent in 2010. It's also higher than debt levels during the mid-2000s when credit availability soared.
We have never seen this level of consumer debt before in all of U.S. history. Just a few days ago I wrote about how tens of millions of Americans are living on the edge financially, and this is yet more evidence to back up that claim.
Right now, Americans owe more than a trillion dollars on auto loans, and we are clearly in the greatest auto loan debt bubble that we have ever seen.
Americans also owe more than a trillion dollars on their credit cards, and credit card delinquency rates are rising. In fact, in some ways what we witnessed during the first quarter of 2018 was quite reminiscent of the peak of the last financial crisis…
In the first quarter, the delinquency rate on credit-card loan balances at commercial banks other than the largest 100 – so at the 4,788 smaller banks in the US – spiked in to 5.9%. This exceeds the peak during the Financial Crisis. The credit-card charge-off rate at these banks spiked to 8%. This is approaching the peak during the Financial Crisis.
The student loan debt bubble has also surpassed a trillion dollars, and the average young adult with student loan debt has a negative net worth…
Despite economic and stock market gains over the past nine years, many young adults are still struggling to get ahead in their financial lives and, in some ways, things may have actually gotten worse.

Americans age 25 to 34 with college degrees and student debt have a median net wealth of negative $1,900, according to a report analyzing 2016 Federal Reserve data released Thursday by Young Invincibles, a young adult advocacy group. That's a drop of $9,000 from 2013, YI's analysis found.
Meanwhile, corporate debt has doubled since the last financial crisis. Thousands of companies are so highly leveraged that even a slight economic downturn could completely wipe them out.
State and local government debt levels are also at record highs, but nobody seems to care. And if we never have another recession everything might work out okay.
The biggest offender of all, of course, is the United States federal government. We have been adding about a trillion dollars a year to the national debt since Barack Obama first entered the White House, and Goldman Sachs is projecting that number will surpass 2 trillion dollars by 2028…
The fiscal outlook for the United States "is not good," according to Goldman Sachs, and could pose a threat to the country's economic security during the next recession.

According to forecasts from the bank's chief economist, the federal deficit will increase from $825 billion (or 4.1 percent of gross domestic product) to $1.25 trillion (5.5 percent of GDP) by 2021. And by 2028, the bank expects the number to balloon to $2.05 trillion (7 percent of GDP).
Our national debt has been growing at an exponential rate for decades, and because total disaster has not struck yet many people seem to believe that we can keep on doing this.
But the truth is that it simply is not possible. There is only so much debt that a society can take on before the entire system implodes.
So how close are we to that point?
The following chart comes from Charles Hugh Smith, and it shows the exponential rise in overall debt levels that has taken us to the brink of nearly 70 trillion dollars in debt…
And this next chart from the SRSrocco Report shows how our rate of overall debt growth has compared to our rate of GDP growth…
We are literally on a path to national suicide.
Whether it happens next month, next year or five years from now, it is inevitable that we are going to slam into a brick wall of financial reality.
For the moment, the only way that we can continue to enjoy our current debt-fueled standard of living is to continue increasing our debt bubble at an exponential rate.
But that can only go on for so long, and when the party ends we are going to experience the greatest debt crisis in history.
Today, the average American household is nearly $140,000 in debt, and that is more than double median household income. And if we were to include each household's share of corporate debt, local government debt, state government debt and federal government debt, that number would be many times higher.
All of this debt will never be repaid. Ultimately there will come a day when the system will completely collapse under the weight of so much debt, and most Americans are completely unaware that such a day of reckoning is rapidly approaching.
Michael Snyder is a nationally syndicated writer, media personality and political activist. He is the author of four books including The Beginning Of The End and Living A Life That Really Matters.