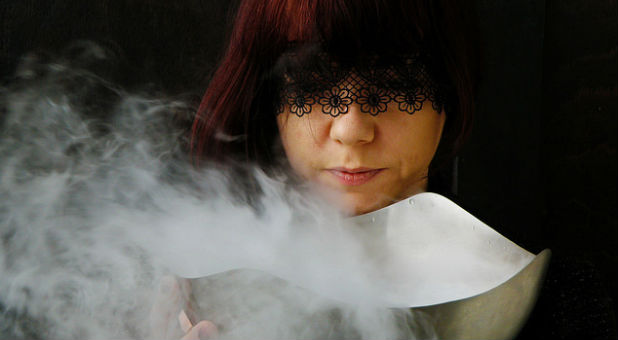 A dramatic spiritual paradigm shift is taking place in the western world.  At the end of last week, I discussed the fact that more Americans than ever before appear to be turning away from the Christian faith, and this is particularly true among our young people.  And while it is undeniable that atheism and agnosticism are both growing rapidly, it is also important to point out that other faiths are on the rise in the western world at the exact same time that Christianity is shrinking.  If you are a Christian, what you are about to read should concern you greatly.
Let's start with witchcraft.  It has been estimated that Wicca (one very popular form of witchcraft) is now the fastest growing faith in America.  Books and movies featuring Harry Potter and others that use "magic" for good have fueled a tremendous amount of interest in the dark arts these days.  Just consider the following excerpt from a Salon article that was published earlier this month…
Stores specializing in metaphysical sundries (think ritual candles, blended oils, sacred herbs) like Spellbound Sky and House of Intuition in Los Angeles, while not brand-new, are suddenly crowded. In Brooklyn, Witches of Bushwick has evolved from a venue on the underground party circuit to a social collective that celebrates witchcraft as a feminist art and collaborates with fashion companies like Chromat. Of course, for those who prefer whipping up potions at home, several new witch- and occult-themed subscription boxes deliver the magical arts to the doorstep.
And social media has enabled young people interested in magic to connect with one another in a way that we have never seen before.  Here is more from Salon…
Check social media: A search for #witch on Instagram yields about 2,375,000 posts — whereas one for #kardashian scores only 1,630,000. Search next time at a boutique: Tarot decks are coming back in high style, thanks to retailers like the Wild Unknown — its artful cards are in stores across the country, from upscale meccas like ABC Home in New York City to indie hot spots like Skylark in Venice Beach, California. K-Hole was right, "mysticore" is the new norm.
Yes, there are still many more Christians than witches in America.
But the ranks of those that are into the occult are growing very quickly – especially among our young people – and in many churches on Sunday morning you will be fortunate to find even a handful of young adults.
Meanwhile, Islam is on the rise in the western world as well.  Much of this is due to immigration, and new mosques are springing up all over the United States and Europe.
As Islam gains ground, there has been a concerted effort in some quarters to bring Christianity and Islam together.  This movement has become known as "Chrislam", and in recent years we have seen some things that many of us never imagined that we would ever see in the Christian world.
For example, earlier this year the General Assembly of the Presbyterian Church USA was opened with a prayer offered to Allah…
"Allah bless us and bless our families and bless our Lord. Lead us on the straight path – the path of all prophets: Abraham, Ishmael, Isaac, Moses, Jesus, and Muhammad."

These were the words that rang out over the congregation at The General Assembly of the Presbyterian Church, USA meeting in Portland, Oregon. Wajidi Said, co-founder of the Muslim Education Trust, led the attendees in the prayer to the Islamic deity, a move arranged by the Ecumenical and Interfaith ministry staff at the assembly.

The prayer was part of the "first order of business" during the meeting's opening session, a time dedicated to praying for those affected by the Orlando shooting that occurred just weeks before.
And of course the Presbyterian Church USA is far from alone.  As I have documented, Pope Francis has stated that Christians and Muslims both "worship the one God", and in 2014 he authorized Islamic prayers and readings from the Quran at the Vatican for the first time ever.
But despite such efforts to "bring Christians and Muslims together", the truth is that Islamic terrorists continue to slaughter Christians on a continual basis all over the planet.  The most recent attack on a church took place in Indonesia on Sunday…
An ISIS suicide bomber today attacked a Catholic priest with an axe as he tried to blow up hundreds of worshippers at a church during Sunday Mass.

Priest Albert Pandiangan, 60, was holding the holy ceremony at the altar when the 18-year-old fanatic rushed towards him with a backpack bomb and tried to blow himself up.

But the bomb burned without setting off the explosives, so the jihadi pulled an axe from his bag and slashed the priest's arm at St Yoseph Church in Medan, the capital of North Sumatra in Indonesia.
So far there have been well over 1000 Islamic terror attacks in 2016, and ISIS appears to have a renewed emphasis on attacking churches and Christians wherever they can find them.
Without a doubt, we are also witnessing a huge increase in the number of atheists and agnostics in the western world.  Europe is much farther along than the United States is in this regard, and many areas of the continent are rightly regarded to be "post-Christian" at this point.
In the UK, the Christian faith has declined so dramatically that now we are seeing the rise of "humanist chaplains" that don't hold to any sort of faith at all…
With participation in traditional faiths at near-record lows, Britain is seeing the rise of humanist chaplains providing "pastoral" support for the non-religious.

Last month the University of Westminster in London broke new ground by appointing its first official secular advisor for students.

The move followed efforts by the British Humanist Association since 2014 to train more than 100 volunteers to go into schools, hospitals and prisons in order to provide support for those who don't believe in a deity.
Fortunately, things are much different in much of the rest of the world.  In fact, the Christian faith is currently experiencing explosive growth in China, India, South America and many portions of Africa.
But in the United States and Europe people are leaving the faith of their forefathers in astounding numbers, and that spiritual void is often being filled by other faiths such as witchcraft and Islam.
So what does this mean for the future of our society?
Please feel free to share what you think by posting a comment below…
*About the author: Michael Snyder is the founder and publisher of The Economic Collapse Blog and End Of The American Dream. Michael's controversial new book about Bible prophecy entitled "The Rapture Verdict" is available in paperback and for the Kindle on Amazon.com.*