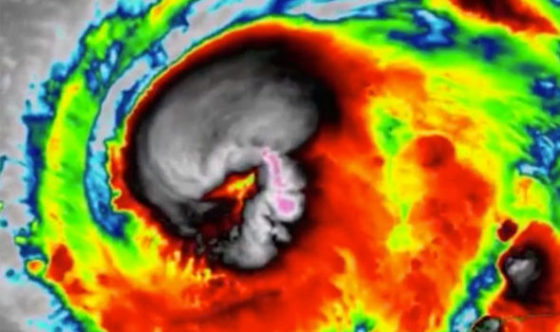 It wasn't supposed to be like this. Hurricane Michael was supposed to be a relatively minor storm as hurricanes go, but it just kept getting stronger and stronger as it approached the Florida panhandle. And when it finally did make landfall, it was an absolutely monstrous storm with sustained maximum winds of 155 miles per hour. If those winds had reached 157 miles per hour, it would have been a Category 5 storm. It truly was a "lawnmower from the sky" that shredded just about everything it encountered as it slammed into a part of the country that was very ill-prepared for a storm of this magnitude. Hundreds of thousands of people are already without power, and as you will see below, one major outlet is warning that "most of the area will be uninhabitable for weeks or months".
It would be difficult to overstate the devastation that this storm has caused. Brock Long, the head of FEMA, is calling Michael "a hurricane of the worst kind"…
Even those jaded by hurricanes have never seen anything like this.

For the first time, a Category 4 hurricane slammed into the Florida Panhandle. And it's bringing an onslaught of deadly hazards.

"Unfortunately, this is a hurricane of the worst kind," said Brock Long, head of the Federal Emergency Management Agency.
I have driven through the Florida panhandle, and especially in some of the more rural areas it is a glimpse into a way of life that most of the nation has long forgotten.
But it is also a region that is full of very old houses and buildings, and those structures were never designed for a storm like this. In Panama City, some residents gathered at a local hotel to ride out the storm, but Hurricane Michael nearly reduced it to rubble…
People whimpered and prayed, babies cried, children called for their mothers and all the while, bit by bit, the hotel that was saving them from Hurricane Michael's howling was falling apart, brick by brick and roofing tile by roofing tile.

The hurricane's eyewall came through Panama City shortly after noon Wednesday, shearing trees in half, twisting roofs from their supports and tossing truck trailers and RVs like toys.
Hurricane Michael will soon be a memory, but the damage caused by this storm will be felt in the Florida panhandle for a very long time to come.
According to the Weather Underground, much of the region "will be uninhabitable for weeks or months"…
Catastrophic damage will occur: Well-built framed homes can sustain severe damage with loss of most of the roof structure and/or some exterior walls. Most trees will be snapped or uprooted and power poles downed. Fallen trees and power poles will isolate residential areas. Power outages will last weeks to possibly months. Most of the area will be uninhabitable for weeks or months.
Please keep the people of the Florida panhandle in your prayers, because recovery is going to take an extended period of time. The following are 10 mind-blowing facts about Hurricane Michael that show just how powerful this storm really was…
-Hurricane Michael made landfall with maximum sustained winds of 155 miles per hour.
-Michael's winds were just 2 miles per hour short of making it a Category 5 hurricane.
-Michael is the strongest hurricane to ever hit the Florida panhandle.
-Overall, Michael is the third strongest hurricane to ever make landfall in the United States. The only two more powerful storms were the Labor Day Hurricane of 1935 and Hurricane Camille in 1969.
-The fact that a total of 30 Waffle Houses closed down for the storm made headlines all over the nation.
-Hurricane Michael was actually a more powerful storm than Hurricane Katrina when it made landfall.
-Hundreds of thousands of people have already lost power as a result of this storm.
-It is being projected that more than a million homes may ultimately lose power before it is all said and done.
-Never before had a Category 4 hurricane made landfall in the Florida panhandle.
-Many have pointed out that an "image of a skull" seems to have appeared at the center of Hurricane Michael as it approached the Florida coastline…
Is image of skull showing up at the center of Hurricane Michael? https://t.co/3Ne8Np2ZtG pic.twitter.com/LOf0IAPFlE

— WUSA9 (@wusa9) October 10, 2018
This is yet another example that shows how dramatically our planet is changing.
Not too long ago, Hurricane Florence slammed into the Carolinas causing a massive amount of damage. Now another major storm has struck our nation, and hurricane season is definitely not over yet.
But it isn't just the U.S. that is getting hammered. Hurricanes and typhoons have been raging all over the globe, and it looks like this could be a record year for global storm damage.
As I have repeatedly warned, Earth changes appear to be accelerating, and that has very alarming implications for the future of every man, woman and child on this planet.
About the author: Michael Snyder is a nationally syndicated writer, media personality and political activist. He is publisher of The Most Important News and the author of four books including The Beginning Of The End and Living A Life That Really Matters.
The Last Days Warrior Summit is the premier online event of 2018 for Christians, Conservatives and Patriots. It is a premium-members only international event that will empower and equip you with the knowledge and tools that you need as global events begin to escalate dramatically. The speaker list includes Michael Snyder, Mike Adams, Dave Daubenmire, Ray Gano, Dr. Daniel Daves, Gary Kah, Justus Knight, Doug Krieger, Lyn Leahz, Laura Maxwell and many more. Full summit access will begin on October 25th, and if you would like to register for this unprecedented event you can do so right here.