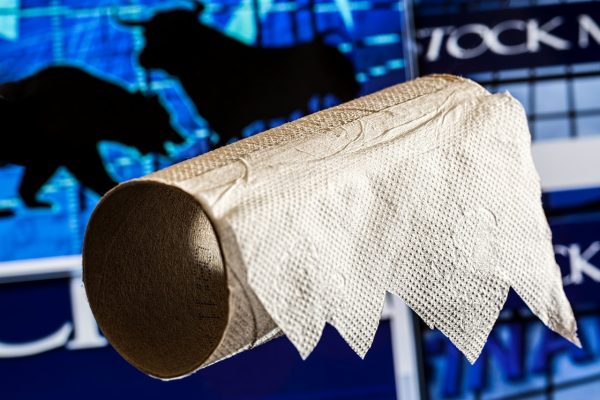 Our trade war with China has begun to spiral out of control, and as a result global financial markets have been thrown into a state of turmoil. On Monday, the Dow Jones Industrial Average fell 767 points, and that represented the sixth-largest single day stock market decline in all of U.S. history. To put that into perspective, the biggest single day decline during the financial crisis of 2008 was just 777 points. So what we witnessed on Monday was definitely very serious. And the Nasdaq just got absolutely monkey-hammered as well. On a percentage basis, it was down even more than the Dow was, and it has now fallen for six days in a row. We have not seen a losing streak that long for the Nasdaq since President Trump was elected, and some analysts are convinced that even more chaos is on the way.
Overall, 1.4 trillion dollars in stock market wealth has been completely wiped out in less than a week…
It took just four brutal trading days for a $1.4 trillion wipeout in the S&P 500 stock value. From the Federal Reserve's disappointing comments on the future of interest rates to President Donald Trump's surprise tariffs to China's weaponizing of the yuan, the record-long bull market took a big hit in a relatively short time.
European stocks have been getting clobbered as well. In fact, they just experienced their largest two day decline in three years.
After Trump imposed another wave of tariffs on China at the end of last week, we knew that the Chinese would retaliate. But we expected that the retaliation would be at least somewhat proportional.
Instead, they decided to bring down the hammer.
When Chris Krueger was asked about China's retaliation, he said that "on a scale of 1-10, it's an 11". The Chinese have announced that they are going to completely stop buying U.S. agricultural products, and they shocked global financial markets when they allowed the yuan to drop like a rock early on Monday. In response, the U.S. Treasury Department formally designated China as a "currency manipulator", and it appears that any hopes for a trade deal between the United States and China before the 2020 presidential election are completely and utterly dead. For an extended analysis of these events, please see the article that I just posted entitled "China Just Went Nuclear In The Trade War, And There Is No Turning Back Now".
All along, most investors seemed to believe that all of the angry talk would eventually fade and that the U.S. and China would be able to work things out.
But that didn't happen, and now we have crossed the point of no return. Financial markets are finally starting to realize that this trade war is going to have very, very serious implications for major U.S. corporations, and this will especially be true for our largest tech companies.
Over the past two trading days, the big five tech companies have combined to lose 228 billion dollars in market value…
Tech's big five companies lost $66 billion in market value on Friday, and Monday's plunge brought the two-day drop to $228 billion. Apple had the biggest percentage decline, falling 5.2%. Apple told U.S. Trade Representative Robert Lighthizer in June that the latest proposed tariffs would hit "all of Apple's major products." Some analysts are projecting a significant impact.
Meanwhile, by the way, the price of gold has been soaring.
As I have repeatedly argued, something definitely needed to be done about China, but trying to bully them into making a deal was never, ever going to work.
They are a very proud people, and once we started repeatedly pushing them extremely hard, it was just a matter of time before they started pushing back…
"Your back is put against the wall and you're constantly being attacked. Pride starts to kick in, and it's not surprising China has started to assert some of its force," said Greg Peters, head of multi sector and strategy at PGIM Fixed Income. "I'm not sure what that means in real terms. It's not different than any other life situations. You push someone hard enough and they start pushing back. … I never thought it was a good idea to act like it's a scorched earth policy – I win, you lose. I continue to think that was never viable for the Chinese."
Being aggressive can be an effective negotiating tool, but if you push too hard and too fast you run the risk of completely alienating the other party.
That appears to be what has happened in this case, and now all hopes for a trade deal are completely dead. As Bonnie Glaser has noted, the "potential for compromise has past"…
"The timing couldn't be worse," said Bonnie Glaser, director of the China Power Project at the Center for Strategic and International Studies in Washington. "The potential for compromise has past. Both sides are digging in and both leaders are first and foremost concerned about their domestic audiences. Politics is in the lead."
Hopefully the markets will bounce back on Tuesday. After being down quite a bit earlier, Dow Jones Industrial Average futures are trading slightly higher as I write this article.
However, the truth is that this crisis isn't going away. There isn't going to be a trade deal with China, and that is going to mean a tremendous amount of pain for the global economy.
When a financial bubble pops, usually there is some sort of trigger that causes it to happen. In 2008, it was the subprime mortgage meltdown. This time around, it looks like the trigger could be our trade war with China.
As I noted a few days ago, our financial markets are more primed for a crash than they have ever been before. And we are moving into the season when big crashes tend to happen.
Things have not looked this ominous since 2008, and a lot of investors are starting to get very nervous.
We shall see how the rest of this year plays out, but right now events certainly seem to be moving in a very alarming direction.
About the author: Michael Snyder is a nationally-syndicated writer, media personality and political activist. He is the author of four books including Get Prepared Now, The Beginning Of The End and Living A Life That Really Matters. His articles are originally published on The Economic Collapse Blog, End Of The American Dream and The Most Important News. From there, his articles are republished on dozens of other prominent websites. If you would like to republish his articles, please feel free to do so. The more people that see this information the better, and we need to wake more people up while there is still time.