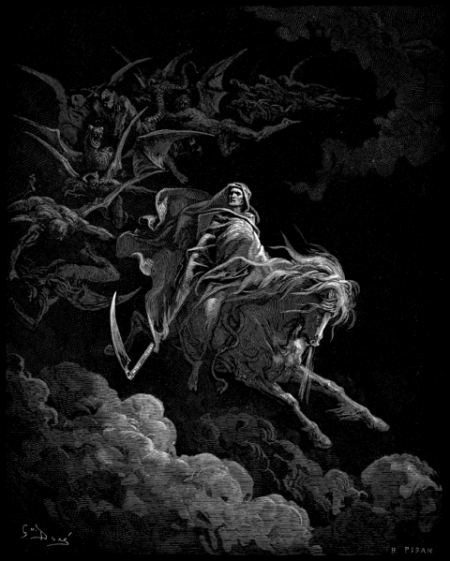 Ebola continues to spread an an exponential rate. According to the World Health Organization, 40 percent of all Ebola cases have happened in just the last three weeks. At this point, the official numbers tell us that approximately 3,500 people have gotten the virus in Africa and more than 1,900 people have died. That is quite alarming, but the real problem will arise if this disease continues to spread at an exponential pace. One team of researchers has used computer modeling to project that the number of Ebola cases will reach 10,000 by September 24th if current trends continue. And if the spread of Ebola does not slow down, we could be dealing with 100,000 cases by December. Even the WHO is admitting that the number of cases is likely to grow to 20,000 before too much longer, and global health officials are now starting to use apocalyptic language to describe this outbreak.
For people in the western world that have never seen anything like this other than in the movies, it can be difficult to grasp just how horrible this epidemic truly is. In the areas of west Africa where Ebola is spreading, fear and panic are everywhere, food shortages are becoming a serious problem and there have been reports of dead bodies rotting in the streets. People are avoiding hospitals and clinics because of paranoia about the fact that so many health workers have contracted the disease. According to the World Health Organization, more than 240 health workers have gotten the virus so far and more than 120 of them have perished.
We have never seen anything like this in any of our lifetimes, and the scary part is that this might only be just the beginning.
The following are 16 apocalyptic quotes from global health officials about this horrific Ebola epidemic…
#1 Dr. Tom Frieden, the Director of the Centers for Disease Control and Prevention: "It is the world's first Ebola epidemic, and it's spiraling out of control. It's bad now, and it's going to get worse in the very near future. There is still a window of opportunity to tamp it down, but that window is closing. We really have to act now."
#2 Dr. Joanne Liu, the international president of Doctors Without Borders: "Riots are breaking out. Isolation centres are overwhelmed. Health workers on the frontline are becoming infected and are dying in shocking numbers."
#3 David Nabarro, senior United Nations system coordinator for Ebola disease: "This outbreak is moving ahead of efforts to control it."
#4 Dr. Bruce Aylward, WHO's assistant director-general for emergency operations: "This far outstrips any historic Ebola outbreak in numbers. The largest outbreak in the past was about 400 cases."
#5 Margaret Chan, the head of the World Health Organization: "…we hope to stop the transmission in six to nine months".
#6 Dr. Daniel Bausch, associate professor in the department of Tropical Medicine at Tulane University: "You have a very dangerous virus in three of the countries in the world that are least equipped to deal with it. The scale of this outbreak has just outstripped the resources. That's why it's become so big."
#7 Gayle Smith, senior director at the National Security Council: "This is not an African disease. This is a virus that is a threat to all humanity."
#8 Dr. Tom Frieden, the Director of the Centers for Disease Control and Prevention: "The level of outbreak is beyond anything we've seen—or even imagined."
#9 Vincent Martin, head of an FAO unit in Dakar: "This is different than every other Ebola situation we've ever had. It's spreading widely, throughout entire countries, through multiple countries, in cities and very fast."
#10 Dr. Richard Besser, health and medical editor for ABC News: "Emergency rooms are closed, many hospital wards are as well leaving people who are sick with heart disease, trauma, pregnancy complications, pneumonia, malaria and all the everyday health emergencies with nowhere to go."
#11 Bukar Tijani, the UN Food and Agricultural Organization regional representative for Africa: "Access to food has become a pressing concern for many people in the three affected countries and their neighbours."
#12 Keiji Fukuda, the WHO's assistant director-general for health security: "People are hungry in these communities. They don't know how they are going to get food."
#13 Dr. Daniel Bausch, associate professor in the department of Tropical Medicine at Tulane University: "This is for sure the worst situation I've ever seen."
#14 Dr. Tom Frieden, the Director of the Centers for Disease Control and Prevention: "I could not possibly overstate the need for an urgent response."
#15 Official WHO statement: "Staff at the outbreak sites see evidence that the numbers of reported cases and deaths vastly underestimate the magnitude of the outbreak."
#16 Dr. Joanne Liu, the international president of Doctors Without Borders: "It is impossible to keep up with the sheer number of infected people pouring into facilities. In Sierra Leone, infectious bodies are rotting in the streets."
Despite all of these warnings, a lot of people in the western world are not too concerned about this epidemic because they have faith that our advanced technology will prevent a widespread Ebola outbreak in the United States and Europe.
But I wouldn't be so certain about that.
So far, the most promising experimental Ebola drug seems to be ZMapp. In clinical trials, it has been doing very well on monkeys.
However, it hasn't turned out to be a silver bullet for humans so far. Two out of the seven people that have received ZMapp have died, and as CBS News recently explained, current supplies are exhausted and it takes a really long time to make more of this stuff…
ZMapp's maker, Mapp Biopharmaceutical Inc., of San Diego, has said the small supply of the drug is now exhausted and that it will take several months to make more. The drug is grown in tobacco plants and was developed with U.S. government support.

Kobinger said it takes about a month to make 20 to 40 doses at a Kentucky plant where the drug is being produced. Officials have said they are looking at other facilities and other ways to ramp up production, and Kobinger said there were plans for a clinical trial to test ZMapp in people early next year.
The cold, hard truth is that Ebola is a brutally efficient killer for which we do not have a cure at the moment.
And what makes things even more complicated is that a different strain of Ebola is now spreading in the Democratic Republic of Congo. A treatment that works for one strain of Ebola may not work on another strain.
So let us hope and pray that Ebola does not reach the United States.
If it does, it could potentially spread like wildfire.
(Originally posted at The Economic Collapse Blog)