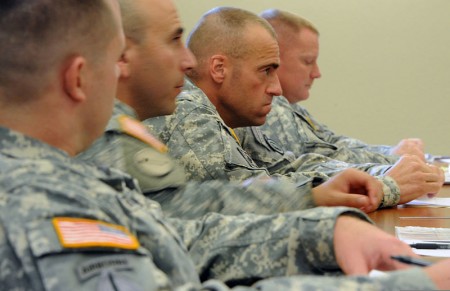 Pink slips will start going out next week to about 500 Army majors – including some on duty in Afghanistan – in the latest wave of troop cuts forced by "budget restrictions," the Army announced Friday.
"We don't want to do this," but the Army has no choice under the constraints of the Budget Control Act and the Congressional sequester process, Gen. John Campbell, the vice chief of the Army, said Friday, Military.com reports.
Campbell noted may of the 1,100 captains on a hit list last month were serving in Afghanistan as well, and "the same thing probably will happen with some of these majors," Military.com reports.
Cutting troops is always hard, he said, but axing "the ones that are deployed is certainly the hardest," he said.
Military.com reports at least 48 of the 1,100 captains handed pink slips last month had been serving in Afghanistan – a decision that came under intense criticism, including from former Army Capt. Jon­athan Hendershott, who called it a "stunning display of callousness" in an opinion piece for the New York Post. 
(Read the rest of the story here…)