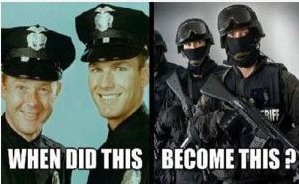 Heavily armed SWAT police trained their guns on the public and fired tear gas in Ferguson, Missouri, last night as racial unrest over the fatal shooting of an unarmed black teen rocked the St. Louis suburb for the fourth night running.
An estimated 500 people, who had been protesting 18-year-old Michael Brown's death on Saturday, ignored the night curfew imposed by police and instead faced-off against officers chanting 'Hands Up! Don't Shoot!'
After repeatedly asking them to disperse, the riot police then fired tear gas into the crowd to break it up, causing scenes that resembled a war zone as another night of clashes was sparked between authorities and furious protestors.
The protestors that remained entered into pitched street battles with police and lobbed Molotov cocktails at the camouflage-clad officers who responded with more tears gas and smoke bombs although there were no immediate reports of injuries but at least 18 arrests.
(Read the rest of the story here…)