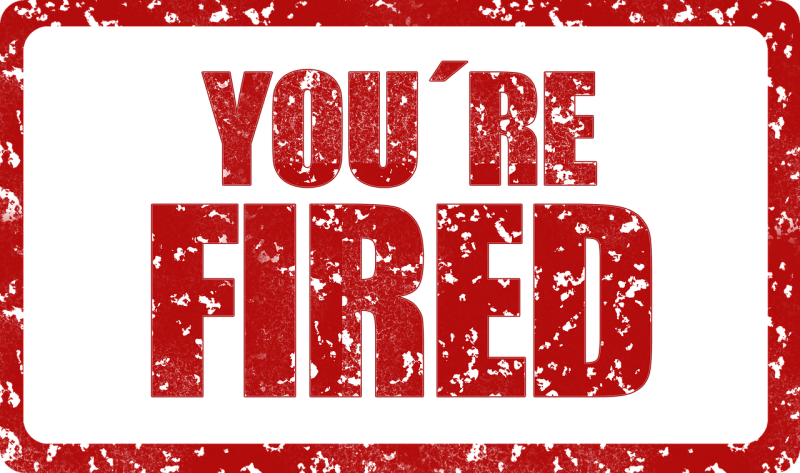 The biggest companies in the United States are giving the axe to hundreds of thousands of workers, but this should not come as a shock to any of us.  Officials at the Federal Reserve were warned over and over again that they were going to create an extremely harsh economic environment if they aggressively raised interest rates, and that is exactly what has transpired.  We haven't seen a tsunami of layoffs like this since 2008 and 2009, and the outlook for the months ahead is extremely bleak.
Many of us warned the Fed that it would be mind-numbingly stupid to push interest rates much higher just as we were entering a major economic downturn, but of course the Fed didn't want to listen.
We were told that they are the "experts" and that they knew precisely what they were doing.
And now a nightmare scenario is playing out right in front of our eyes.
The following are 16 large companies that have just announced mass terminations…
#1 Tyson: "Tyson Foods Inc (TSN.N) will eliminate about 10% of corporate jobs and 15% of senior leadership roles, Chief Executive Donnie King told employees on Wednesday."
#2 Lyft: "Ride-hailing app Lyft will lay off 1,072 employees, roughly 26% of its corporate workforce, and won't hire for an additional 250 positions, the company said in an SEC filing Thursday."
#3 Deloitte: "Deloitte will cut around 1,200 jobs or 1.5% of its U.S. workforce, the Financial Times reported on Friday, citing internal employee communications."
#4 Gap: "Gap will lay off about 1,800 employees, more than three times as many as the 500 layoffs it announced in September, as part of a broad effort to cut costs and streamline operations, the company said Thursday."
#5 Ernst & Young: "Ernst & Young said Monday that it would eliminate roughly 3,000 jobs from its US workforce as it pivots to address shifts in demand and "overcapacity" in sections of its business."
#6 3M: "The manufacturing behemoth behind some consumer brands, including Post-It Notes and Scotch Tape, said it would lay off 6,000 staff around the world. Those cuts are in addition to the 2,500 manufacturing roles 3M eliminated in January."
#7 CDW: "CDW's bombshell announcement this week that it expects first fiscal quarter results below expectations and the apparent layoff of hundreds of its employees is a sign that moderated technology demand since the height of the pandemic is more than just a one-quarter strain for hardware, software and services businesses."
#8 David's Bridal: "One of the largest sellers of wedding gowns in the United States, David's Bridal is laying off thousands of workers nationwide, according to a notice filed to the Pennsylvania Department of Labor."
#9 DropBox: "Shares of Dropbox are trading about 5% higher today after the company said it plans to slash its global workforce by approximately 16%."
#10 Red Hat: "Following parent company IBM announcing thousands of layoffs in 2023, Red Hat CEO Matt Hicks told employees Monday that approximately 4 percent of its global workforce will be laid off."
#11 Opendoor: "Opendoor Technologies on Tuesday said it was cutting roughly 560 jobs, or 22% of the workforce at the online U.S. real estate firm, citing a declining housing market."
#12 First Republic: "First Republic plans to reduce its workforce between 20% and 25% this quarter following "unprecedented" deposit outflows in the wake of Silicon Valley Bank's collapse last month, the company said in a regulatory filing on Monday."
#13 Walmart: "Walmart is laying off more than 2,000 workers at five US warehouses that fulfill website orders in a move that came weeks after America's largest private employer warned it's in for a tough year ahead."
#14 Facebook: "A layoff notice filed with the state this week shows Facebook's parent company Meta plans to let go 343 employees across three Manhattan offices."
#15 Amazon: "Amazon has officially started up its most recent round of employee reductions. The company is kicking off its previously announced layoffs of ~9,000 staff by axing workers in its Amazon Web Services (AWS) and human resources sectors."
#16 Disney: "Disney is laying off several thousand workers across the company this week in the second and largest wave of cuts as part of the media giant's previously announced plan to slash its workforce by 7,000 employees."
Sadly, these are not isolated examples.
According to Challenger, Gray & Christmas, during the first three months of this year job cuts in the United States were 396 percent higher than they were during the same period a year ago…
Companies announced nearly 90,000 layoffs in March, a sharp step up from the previous month and a giant acceleration from a year ago, outplacement firm Challenger, Gray & Christmas reported Thursday.

Planned layoffs totaled 89,703 for the period, an increase of 15% from February. Year to date, job cuts have soared to 270,416, an increase of 396% from the same period a year ago.

The damage was especially bad in tech, which has announced 102,391 cuts so far in 2023. That's a staggering increase of 38,487% from a year ago and good for 38% of all staff reductions. Tech already has cut 5% more than for all of 2022, according to the report, and is on pace to eclipse 2001, the worst year ever amid the dot-com bust.
Please take a moment to digest those numbers, because they are absolutely staggering.
This isn't just some sort of a minor shift in the employment market.
This is a collapse.
But according to the "official numbers" that the Biden administration gives us, everything is still fine.
And they are going to keep telling you that everything is fine until it is too late.
For years, our leaders were able to temporarily prop up our failing system by flooding it with unprecedented amounts of fresh money.
But now a day of reckoning has arrived.
They can't keep printing more money because they are terrified of more inflation, but our economy is going to crumble without artificial assistance.
Those that are running things have run out of good options, but most Americans still have faith that they will be able to find a way to pilot us out of this mess.
Michael's new book entitled "End Times" is now available in paperback and for the Kindle on Amazon.com, and you can check out his new Substack newsletter right here.
About the Author: My name is Michael and my brand new book entitled "End Times" is now available on Amazon.com.  In addition to my new book I have written six other books that are available on Amazon.com including "7 Year Apocalypse", "Lost Prophecies Of The Future Of America", "The Beginning Of The End", and "Living A Life That Really Matters". (#CommissionsEarned)  When you purchase any of these books you help to support the work that I am doing, and one way that you can really help is by sending copies as gifts to family and friends.  Time is short, and I need help getting these warnings into the hands of as many people as possible.  I have also started a brand new Substack newsletter, and I encourage you to subscribe so that you won't miss any of the latest updates.  I have published thousands of articles on The Economic Collapse Blog, End Of The American Dream and The Most Important News, and the articles that I publish on those sites are republished on dozens of other prominent websites all over the globe.  I always freely and happily allow others to republish my articles on their own websites, but I also ask that they include this "About the Author" section with each article.  The material contained in this article is for general information purposes only, and readers should consult licensed professionals before making any legal, business, financial or health decisions.  I encourage you to follow me on social media on Facebook and Twitter, and any way that you can share these articles with others is definitely a great help.  These are such troubled times, and people need hope.  John 3:16 tells us about the hope that God has given us through Jesus Christ: "For God so loved the world, that he gave his only begotten Son, that whosoever believeth in him should not perish, but have everlasting life."  If you have not already done so, I strongly urge you to invite Jesus Christ to be your Lord and Savior today.