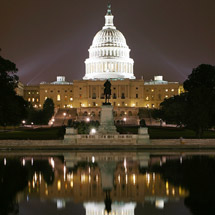 The most important news for Friday, November 20th, 2009…..
Another Saturday vote on health care reform?  Yes, Senate majority leader Harry Reid is getting ready for a vote on the "health care reform" bill in the Senate on Saturday night.
The House Financial Services Committee has approved the bill to audit the Fed.
Influential Democrats in Congress are calling for a new income tax to pay for the war in Afghanistan.
The virulent H1N1 swine flu mutation in Ukraine that is causing so many problems has been found in the lungs of dead and dying patients in Norway.
In New Jersey, six people recently died from the swine flu in just nine days.
Physicians are being asked to be on the Lookout for possible "hemorrhagic pneumonia cases" among flu patients.
In the U.K., the Home Office has held talks with coffin manufacturers about increasing production if deaths from swine flu rise.
More than 100,000 doses of the H1N1 vaccine have been withdrawn in Canada due to a warning that one particular batch of the vaccine had a higher than usual amount of adverse reactions among patients.
About 25,000 children in on-base Air Force daycare centers will be forced to receive the H1N1 swine flu vaccine or face being barred from school.
The Dutch health institute RIVM has halted the distribution of a batch of Pfizer's Prevnar childhood vaccine following the death of three babies shortly after being vaccinated.
Has aspirin killed more people than the H1N1 swine flu so far?
Barack Obama has dispatched a delegation to The Hague to explore issues involving the possible participation of the United States in the International Criminal Court.
Muslim nations are seeking a United Nations blasphemy ban that would radically restrict free speech in the United States.
The United Nations Population Fund (UNFPA) released its annual "State of the World Population Report" yesterday, and it links efforts to promote "sustainable development" and affect "climate change" to its "population control" agenda.  Thanks to Barack Obama, the U.S. gives 50 million dollars a year to the UNFPA.
The Large Hadron Collider is ready to restart this weekend.  Many are wondering what is going to happen when it does.
Société Générale is advising clients to be ready for a possible "global economic collapse" over the next two years.
In 2015 alone, the estimated interest due on the U.S. national debt – $533 billion – is equal to a third of the federal income taxes expected to be paid that year.
The U.S. economic crisis has catapulted the number of Americans who lack enough food to the highest level since the government has been keeping track.
Is Lou Dobbs considering a run for the Senate or even for the White House?
It turns out that Ron Paul is still getting a million Google searches per month.
A new report indicates that China is ramping up espionage against the United States.
A new poll reveals that almost two-thirds of Americans expect an Islamic suicide bomb attack on American soil within six months.
An announced 32 percent increase in tuition has caused near riots on the UCLA campus.
Venezuela has blown up two pedestrian bridges on its border with Colombia in the latest sign of deteriorating relations between the two nations.
Suicides in the U.S. Army have already surpassed last year's record number of suicides.
A police officer in Arkansas used a Taser stun gun to subdue a 10 year old girl in her own home because she refused to take a shower.
Women put 515 chemicals on their face and body every day by using beauty products that contain dozens of ingredients, some of them very harmful.
Osama bin Laden's son says that he wants to "promote peace" by working for the United Nations.
A play depicting Jesus as a gay man played to an packed house in a California church while a handful of protesters outside called it blasphemous.
Lastly, it is being reported that one father in Minnesota spoke only Klingon to his son for the first three years of his child's life.  In light of that, perhaps we should all be a little more thankful for our own fathers this upcoming Thanksgiving.