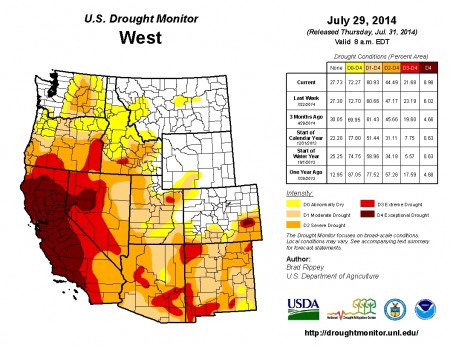 More than half of California is now under the most severe level of drought for the first time since the federal government began issuing regular drought reports in the late 1990s, according to new data released Thursday.
According to the U.S. Drought Monitor report, in July roughly 58% of California was considered to be experiencing an "exceptional" drought — the harshest on a five-level scale.
This is the first year that any part of California has seen that level of drought, let alone more than half of it, said Mark Svoboda, a climatologist with the National Drought Mitigation Center, which issued the report.
"You keep beating the record, which are still all from this year," he said.
The entire state has been in severe drought since May, but more of it has since fallen into more severe categories — "extreme" and "exceptional." Nearly 22% more of California was added into the exceptional drought category in the last week alone.
(Read the rest of the story here…)