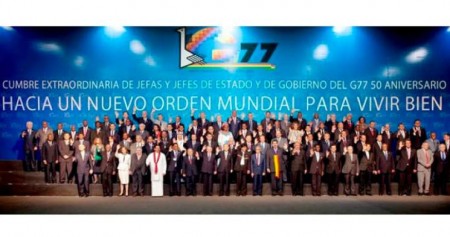 A collection of over 100 of the world's communist, Islamist, and socialist tyrants, along with some elected but mostly corrupt Third World regimes, gathered in Bolivia at the G77 plus China summit to demand what they called a "New World Order to Live Well." United Nations boss Ban Ki-moon joined the anti-American, anti-freedom, anti-national sovereignty, anti-free market festivities, calling on the assembled rulers — the biggest bloc at the UN — to keep pushing "sustainable development" and global-warming alarmism with the goal of foisting global governance on humanity. Despite its significance, the historic 50th anniversary G77 summit went largely unnoticed in the establishment press.
In their final declaration, signed by more than 130 rulers from around the world, the regimes called for what amounts to global tyranny, central planning, and massive wealth redistribution from Western taxpayers to oppressive Third World governments. Everything must be in "harmony" with "Mother Earth" under a "sustainable" UN "international climate change regime," they said. From a stronger UN better able to implement its "mandates" to empowering the UN General Assembly as an "emblem of global sovereignty" and advancing a global reserve currency run by the IMF, the radical screed demands a dramatic planetary transformation.
"We fully respect the principles and purposes of the Charter of the United Nations and international law, particularly as they relate to equality among States," the regimes said in the final agreement, calling for the "strengthening" of the UN for a wide variety of purposes. "We recognize that the United Nations needs to improve its capabilities and capacities to fully implement its mandates and to ensure the effective delivery of its programs in the social and economic development fields." The agreement, dubbed the "Declaration of Santa Cruz: For a New World Order for Living Well," also called for empowering the despot-dominated UN General Assembly to be a sort of veto-proof planetary legislature.
(Read the rest of the story here…)