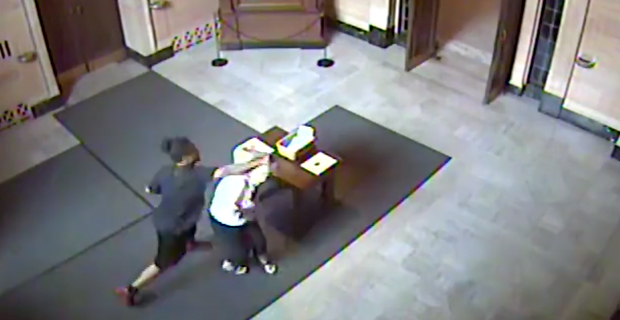 Police in Omaha have arrested one of the individuals seen brutally punching a 76-year-old woman in a video that went viral earlier this week.
The incident occurred last Sunday morning at St. Cecilia's Cathedral. The elderly lady is seen on a security camera picking up a pamphlet before she is blindsided by two thugs, one of whom steals her purse. The other individual then punches the woman full force in the head. She collapses to the ground and subsequently had to be taken to hospital.
After tips poured in from the public, police arrested 22-year-old Wayman Clark, the individual seen throwing the punch in the video. The man who stole the woman's bag remains at large.
Clark was recognized by the police gang unit because they had encountered him just days before. Court records show that the suspect has a lengthy list of minor arrests. Clark's mother was also arrested for harboring a fugitive.
(Read the rest of the story here…)