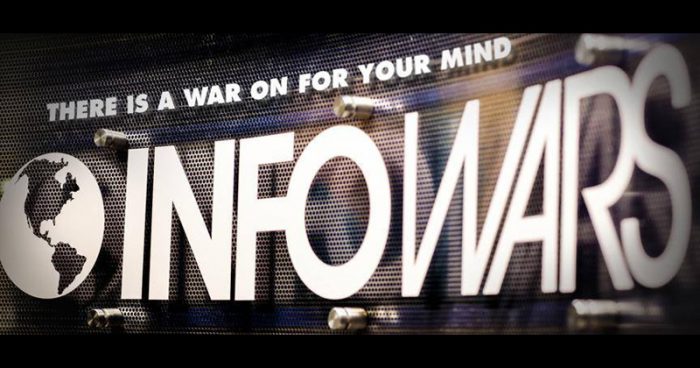 (Information Liberation) Facebook, Apple, Spotify and Google-owned YouTube all moved to ban Infowars from the internet in a coordinated attack on August 6th, 2018 — a day which will go down infamy.
In an act of blatant collusion and election interference carried out just four months before midterms, all four megacorporations banned Infowars within 12 hours of each other.
These four companies have a combined net worth of over $2 trillion and control the vast majority of all internet traffic.
The Alex Jones Channel has been permanently DELETED by YouTube.

This is a coordinated PURGE.

This is political censorship. pic.twitter.com/gyYiSSYFwI

— Paul Joseph Watson (@PrisonPlanet) August 6, 2018
Big Tech is engaging in election meddling and COLLUSION.

Apple, Facebook, Spotify, YouTube (Google) all banned Infowars within 12 hours of each other.

This is unprecedented.

This is political warfare.https://t.co/7LeDltv51y

— Paul Joseph Watson (@PrisonPlanet) August 6, 2018
What has just happened to InfoWars is proof that Big Tech is colluding to silence opposition.

This is terrifying.

— Count Dankula🏴󠁧󠁢󠁳󠁣󠁴󠁿 (@CountDankulaTV) August 6, 2018
The empire strikes back: Apple, Spotify, Facebook and Google/Youtube all purge Infowars/Alex Jones. Yes, Infowars has frequent nonsense, but also a state power critique. Which publisher in the world with millions of subscribers is next to be wiped out for cultural transgression? https://t.co/XAEQWr58hw

— WikiLeaks (@wikileaks) August 6, 2018
Alex Jones has been doing the same thing every day for well over a decade, but Facebook, YouTube, and Apple all decide within hours that he suddenly violates their "community guidelines." Sure, OK

— Michael Tracey (@mtracey) August 6, 2018
Coordinated big tech collusion.

This isn't enforcement of terms of services, it's election meddling.

Congress must act. https://t.co/Tw4V7n15Wz

— Paul Joseph Watson (@PrisonPlanet) August 6, 2018
Whether you like @RealAlexJones and Infowars or not, he is undeniably the victim today of collusion by the big tech giants. What price free speech? https://t.co/DWroGYaWvk

— Nigel Farage (@Nigel_Farage) August 6, 2018
When CNN was lobbying to have @infowars banned from Facebook, everyone ignored it.

Within the past 12 hours Info Wars has been taken off Apple, Spotify, Facebook, and YouTube.

No matter your opinion on Info Wars, this is an attack on free speech for EVERYONE.

— Ashton Whitty✨ (@ashtonbirdie) August 6, 2018
Alex Jones is now an unperson, straight out of the plot of George Orwell's Nineteen Eighty-Four. Regardless what you think of him and Infowars, this is the equivalent of digital book burning and sets a horrifying precedent for mass censorship by Big Tech.

— Mark Dice (@MarkDice) August 6, 2018