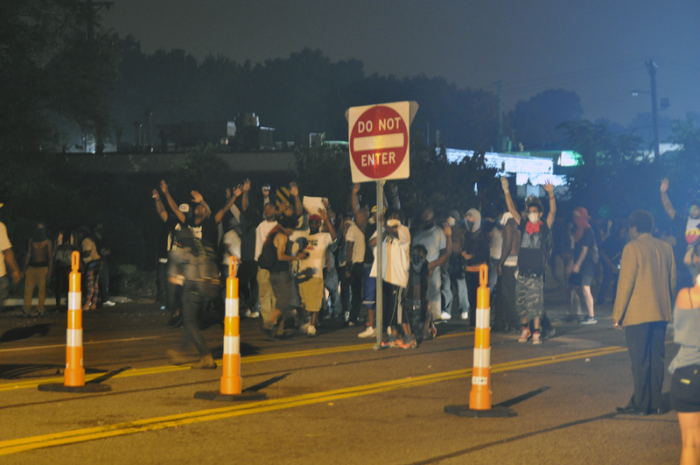 A friend of Michael Brown is in a 'critical, unstable condition' after being shot by police when he used a stolen handgun to fire on officers during a protest to mark the one-year anniversary of the 18-year-old's controversial death.
St. Louis County Police Chief Jon Belmar said that plainclothes officers were tracking the man at around 11:15pm, while several hundred people gathered on West Florissant Street to take part in the demonstration.
He added that the man approached the officers, who were in an unmarked police car and opened fire. The officers returned fire from inside the vehicle. They then pursued the man on foot. The chief said the man again fired on the officers and all four fired back.
The suspect has been identified as 18-year-old Tyrone Harris Junior by his father, who revealed that his son was a 'real close' school friend of the late Michael Brown. 'We think there's a lot more to this than what's being said,' Harris Senior was quoted as saying in local media reports.
Footage shot by protester Tony Rice, who was live-tweeting near a McDonald's under the Twitter name @search4swag, showed a black man lying face down on the floor with his hands cuffed behind his back and a large blood stain on his torso. Two police officers can be seen standing over him with their guns drawn but do not assist him.
Rice, who was arrested for filming the footage, can be heard saying to the officers repeatedly: 'Please give him some help! He's bleeding out man, please give him some help.'
(Read the rest of the story here…)