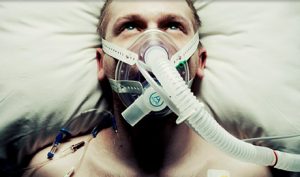 The most important news for Monday, November 23rd, 2009…..
The European Center for Disease Control and Prevention has announced that swine flu deaths in Europe are doubling every two weeks.
Commenting on a spike in H1N1 deaths in Iowa, Dr. Gregory Schmunk told KCCI news that what doctors there are seeing in H1N1 patients in Iowa "is very heavy, wet hemorrhagic lungs, lungs with a lot of blood in them."
Hong Kong's Department of Health has confirmed that it has found the same mutation in a H1N1 flu virus sample as the one detected in Norway recently.
Russia Today is reporting on the "black lung flu" that is sweeping Ukraine.
Uzbekistan has closed their border with Kazakhstan due to concerns about the H1N1 swine flu.
A Tamiflu-resistant cluster of the swine flu is being reported in North Carolina.
Health experts are assuring consumers that Chinese pork is still safe to eat despite widespread reports of pigs being infected with the H1N1 swine flu.
Dr. Eric Beeth is alleging that GlaxoSmithKline's Pandemrix swine flu vaccine caused damage to pregnant rats in pretrial studies.
The mass vaccination of children in France's schools is set to begin on Wednesday.
A marine disabled by a smallpox vaccine several years ago is still battling the VA for health benefits.
Ten Republican Senators voted to confirm Barack Obama's first circuit court appointee who is radically pro-abortion.
An influential Iranian cleric is saying that ballistic missiles would be fired at heart of Tel Aviv if Israel attacks Iran's nuclear program.
A group of the world's developing nations says that "a green technology global body" with powers to direct a worldwide transition away from a high-carbon economy is needed to combat climate change.
Coca-Cola is spearheading a coalition of more than 100 companies pushing the U.S. to agree to be part of the upcoming Copenhagen climate change treaty.
Barack Obama is considering setting a provisional target for cutting America's carbon dioxide emissions.
One of the nation's most influential Baptist leaders says that Barack Obama is causing "severe damage" to U.S. standing in the world.
Does the Senate version of the "health care reform" bill create a tax penalty on married people?
A large number of unburied bodies lie one above the other on steel racks inside a giant freezer in Detroit's central mortuary.
The U.S. government is facing a wave of debt payments that is unprecedented.
A key House panel has approved Ron Paul's proposal to audit the Federal Reserve.
Has a cure for Multiple Sclerosis been discovered?
In the U.K., the study of evolution is to become a compulsory subject for study in all state primary schools.
A Russian priest that criticized Islam has been assassinated inside his church.
Hundreds of Muslim villagers in southern Egypt recently burned and looted Christian-owned shops.
It turns out that atheist student groups are flowering on college campuses.
Former "American Idol" contestant Adam Lambert shocked the American Music Awards audience by shoving dance team members' faces into his crotch, leading others around on dog leashes and delivering a passionate on-stage kiss to his male keyboard player.
Lastly, the U.K. government is being forced by the European Commission to eliminate exemptions that allow church bodies to refuse to employ homosexual staff.