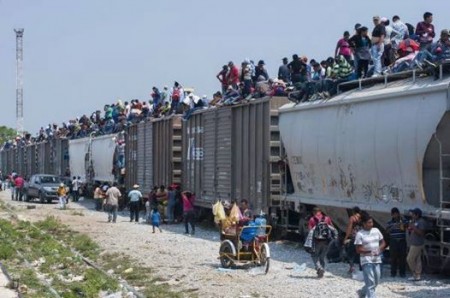 Fourteen-year-old Brayan Duban Soler Redando left Honduras in April after hearing a rumor that children who can make it to the U.S. are being given permission to stay so they can go to school.
He traveled alone all the way from the village of Quebrada Maria on the Caribbean coast of Honduras, through El Salvador, Guatemala and then Mexico. To reach Reynosa,, Brayan begged for bus fare, hopped trains, walked, hitched rides and even swam at night across a river between Guatemala and Mexico.
But in Reynosa, Brayan ran out of money to pay smugglers to take him across the Rio Grande.. And now he, like many others following these false hopes, is stuck in one of the most dangerous cities in the world, in shelters like Senda de Vida, which. sits on a hill overlooking the Rio Grande in this border city.
Shelters like this one are packed these days with migrants planning to cross the river and enter the United States illegally.
(Read the rest of the story here…)