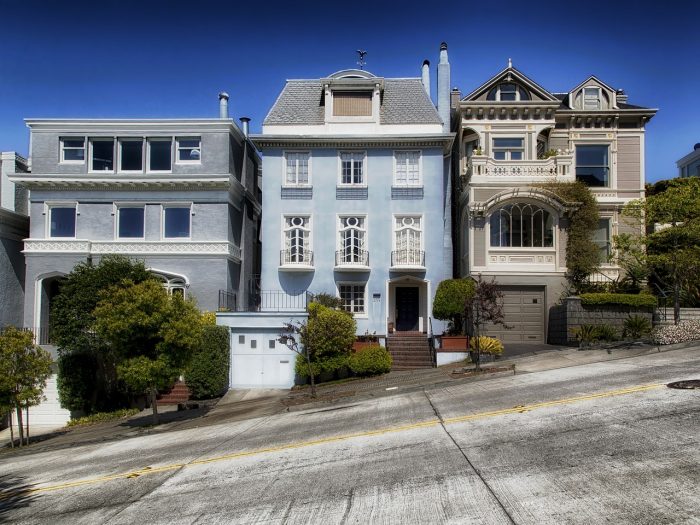 What goes up must eventually come down. For years, the California housing market was on the cutting edge of "Housing Bubble 2" as we witnessed home prices in the state soar to absolutely absurd levels. In fact, it got so bad that a burned down house in Silicon Valley sold for $900,000 earlier this year, and a condemned home in Fremont sold for $1.2 million. But now things have changed in a major way. The hottest real estate markets in the entire country led the way down during the collapse of "Housing Bubble 1", and now it looks like the same thing is going to be true for the sequel.
According to CNBC, the number of new and existing homes sold in southern California was down 18 percent in September compared to a year ago…
The number of new and existing houses and condominiums sold during the month plummeted nearly 18 percent compared with September 2017, according to CoreLogic. That was the slowest September pace since 2007, when the national housing and mortgage crisis was hitting.

Sales have been falling on an annual basis for much of this year, but this was the biggest annual drop for any month in almost eight years. It was also more than twice the annual drop seen in August.
Those numbers are staggering.
And it is interesting to note that sales of new homes are being hit even harder than sales of existing homes…
Sales of newly built homes are suffering more than sales of existing homes, likely because fewer are being built compared with historical production levels. Newly built homes also come at a price premium. Sales of newly built homes were 47 percent below the September average dating back to 1988, while sales of existing homes were 22 percent below their long-term average.
At one time, San Diego County was a blazing hot real estate market, but now the market has turned completely around.
In fact, the county just registered the fewest number of home sales in a month since the last financial crisis…
A combination of rapid mortgage rate increases and decreased affordability, San Diego County home sales collapsed 17.5% to the lowest level in 11 years last month, in the first meaningful sign that one of the country's hottest real estate markets could be at a turning point, real estate tracker CoreLogic reported Tuesday.

In September, 2,942 homes were sold in the county, down from 3,568 sales last year. This was the lowest number of sales for the month since the start of the financial crisis when 2,152 sold in September 2007.
And it can be argued that things are plunging even more rapidly in northern California.
In the San Francisco Bay area, sales of new and existing homes were down 19 percent in September on a year over year basis…
Home sales in the San Francisco Bay area have been falling for months, but in September buyers pulled back in an even bigger way.

Sales of both new and existing homes plunged nearly 19 percent compared with September 2017, according to CoreLogic. It marked the slowest September sales pace since 2007 and twice the annual drop seen in August.
If a new real estate crisis is really happening, these are precisely the kinds of numbers that we would expect to see. If you still need some more convincing, here are even more distressing numbers from the California real estate market that Mish Shedlock recently shared…
The California housing market posted its largest year-over-year sales decline since March 2014 and remained below the 400,000-level sales benchmark for the second consecutive month in September, indicating that the market is slowing as many potential buyers put their homeownership plans on hold.
Existing, single-family home sales totaled 382,550 in September on a seasonally adjusted annualized rate, down 4.3 percent from August and down 12.4 percent from September 2017.
September's statewide median home price was $578,850, down 2.9 percent from August but up 4.2 percent from September 2017.
Statewide active listings rose for the sixth consecutive month, increasing 20.4 percent from the previous year.
Inventory reached the highest level in 31 months, with the Unsold Inventory Index reaching 4.2 months in September.
September year-to-date sales were down 3.3 percent.
Of course a similar thing is happening on the east coast as well. At this point, things have cooled off so much in New York City that it is being called "a buyer's market"…
New York City's pricey real estate has become a "buyers market," new data suggests, characterized by lowball offers and a rise in the number of properties staying on the market for longer.

The latest figures from Warburg Realty show that among higher-priced homes, New York City is in the throes of a "major shift" that reflects a cooling market, the likes of which hasn't been seen in almost a decade.

"Offers 20 percent and 25 percent below asking prices began to flow in, a phenomenon last seen in 2009," wrote Warburg Realty founder and CEO Frederick W. Peters in the report, which surveys real estate conditions around the city.
In the final analysis, it is no mystery how we got to this point.
During the Obama era, the Federal Reserve pushed interest rates all the way to the floor for years, and this caused "Housing Bubble 2" to become even larger than the original housing bubble.
Now the Federal Reserve has been aggressively raising interest rates, and this is now busting the bubble that they created in the first place.
So if you want to blame someone for this mess, blame the Federal Reserve. The Federal Reserve has created huge "booms" and "busts" ever since it was created in 1913, and hopefully the American people will be outraged enough following this next "bust" to start calling for real change.
I have been calling for the abolition of the Federal Reserve for years, and there are many others out there that also want to return to a free market financial system.
History has shown that free markets work exceedingly well once you take the shackles off, and as a nation we desperately need to return to the values and principles that this nation was founded upon.
About the author: Michael Snyder is a nationally syndicated writer, media personality and political activist. He is publisher of The Most Important News and the author of four books including The Beginning Of The End and Living A Life That Really Matters.
The Last Days Warrior Summit is the premier online event of 2018 for Christians, Conservatives and Patriots. It is a premium members-only international event that will empower and equip you with the knowledge and tools that you need as global events begin to escalate dramatically. The speaker list includes Michael Snyder, Mike Adams, Dave Daubenmire, Ray Gano, Dr. Daniel Daves, Gary Kah, Justus Knight, Doug Krieger, Lyn Leahz, Laura Maxwell and many more. Full summit access will begin on October 25th, and if you would like to register for this unprecedented event you can do so right here.