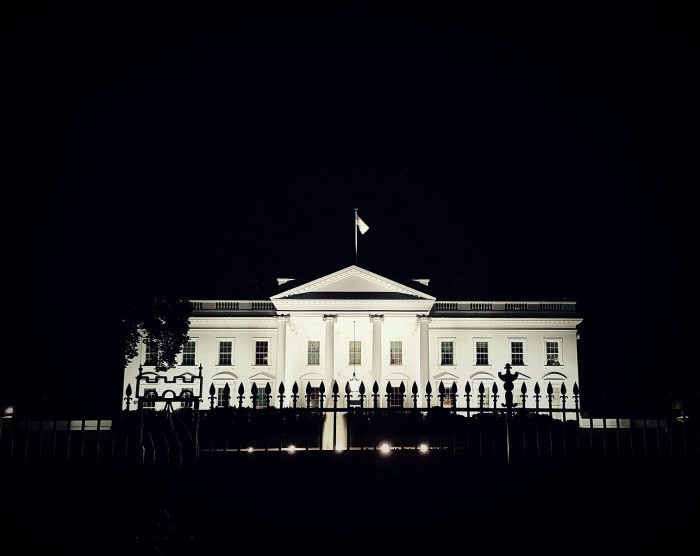 Considering all of the creepy politicians that have resided there, it certainly would not surprise many people to learn that the White House is haunted. There have been rumors about strange things happening at the White House for a very long time, but now we have a firsthand account from someone that actually lived there. According to Jenna Bush Hager, both of the Bush sisters became convinced that the White House was haunted after a very creepy encounter one night…
The sisters were in their shared bedroom when Jenna's phone rang. "It woke us up in the middle of the night," she explained. "We had a fireplace in our room, and all a sudden we started hearing, like, 1920s piano music as clear as day coming out of the fireplace."

It was so spooky that Hager said she jumped in Barbara's bed. "We were both awake!"
Could there be a natural explanation for this?
It seems odd that somebody might have been listening to 1920s piano music in the middle of the night at the White House, but George W. Bush was admittedly a very eccentric guy.
However, Jenna Bush Hager says that this didn't just happen one time. A week after the initial encounter, opera music started coming from the fireplace…
To make things even more suspect, it wasn't a one-time thing. "The next week, we heard the same thing but opera," she said.
And of course Jenna Bush Hager is not the first to claim that the White House is haunted. In fact, White House ghost stories have been around for a very long time…
Ghost stories from the White House are nothing new. Many former presidents and people who have lived there have reported seeing or feeling the presence of President Abraham Lincoln. Queen Wilhelmina of the Netherlands apparently even fainted at the "sight" of him.

There have also been reports of ghost sightings for Abigail Adams, Dolley Madison, Andrew Jackson and even British soldiers walking the hallways.
The legends regarding sightings of Abraham Lincoln are particularly interesting. The following comes from History.com…
By far the most frequently reported sighting in the White House over the years has been the ghost–or at least the presence–of the celebrated 16th president, Abraham Lincoln, whose life was cut tragically short by an assassin's bullet in April 1865. Grace Coolidge, wife of President Calvin Coolidge (1923-29), was the first person to say she had actually seen Lincoln's ghost. According to her, the lanky former president was standing looking out a window of the Oval Office, across the Potomac to the former Civil War battlefields beyond. Lady Bird Johnson, wife of President Lyndon Johnson (1963-69), reportedly felt Lincoln's presence one night while watching a television program about his death.

Most notably, sightings of Lincoln's ghost were frequently reported during the long administration of Franklin D. Roosevelt (1933-45), who also presided over his country during a time of great upheaval. First Lady Eleanor Roosevelt used the Lincoln Bedroom as her study, and said she would feel his presence when she worked there late at night. During her visit to the White House, Queen Wilhelmina of the Netherlands heard a knock on her bedroom door in the night; when she answered it, she reportedly saw Lincoln's ghost, wearing his top hat, and fainted dead away. British Prime Minister Winston Churchill, who visited the White House more than once during World War II, told a story of emerging naked from his evening bath smoking his customary cigar, only to find a ghostly Lincoln sitting by the fireplace in his room.
So do you believe that it is possible that the White House could be haunted by evil spirits?
Please feel free to tell us what you think by posting a comment below…
About the author: Michael Snyder is a nationally syndicated writer, media personality and political activist. He is publisher of The Most Important News and the author of four books including The Beginning Of The End and Living A Life That Really Matters.
The Last Days Warrior Summit is the premier online event of 2018 for Christians, Conservatives and Patriots. It is a premium-members only international event that will empower and equip you with the knowledge and tools that you need as global events begin to escalate dramatically. The speaker list includes Michael Snyder, Mike Adams, Dave Daubenmire, Ray Gano, Dr. Daniel Daves, Gary Kah, Justus Knight, Doug Krieger, Lyn Leahz, Laura Maxwell and many more. Full summit access will begin on October 25th, and if you would like to register for this unprecedented event you can do so right here.