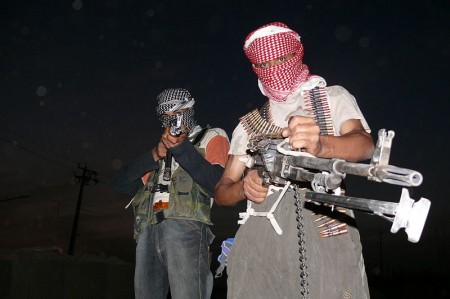 The decapitated heads of policeman and soldiers are lining the streets of Iraq's second biggest city, a displaced Iraqi woman has revealed today.
Speaking from a refugee camp to which she fled after jihadists from the Islamic State of Iraq and the Levant invaded the northern city of Mosul yesterday, the woman told how the victims' heads were in placed in rows – a trademark, trophy-style execution favoured by ISIS militants.
It would appear the occupation of Mosul was easier by the fact a reported 30,000 soldiers fled, leaving behind tanks and firearms as just 800 fighters approached.
Less than 24 hours later the oil-rich city of Tikrit was captured by the militants, who then turned their attentions to the capital as it pushes ahead with its aim to overthrow the western-backed government as part of its goal to create an Islamic emirate spanning both sides of the Iraq-Syria border.
(Read the rest of the story here…)