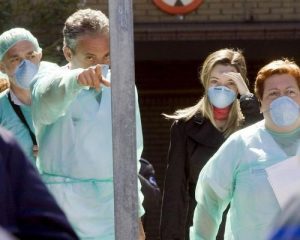 The most important news for Tuesday, November 17th, 2009…..
315 are now dead in Ukraine, and fatalities are on the increase from the flu in Poland and Belarus, and yet the WHO is still refusing to release the sequences taken from flu patients in Ukraine.
However, the WHO has released a statement in which they said this: "Preliminary genetic sequencing shows that the virus is similar to the virus used for production of the pandemic influenza vaccine, reconfirming the vaccine's efficacy at this time."
Reports are coming in of people dying from a pandemic flu and pneumonia in Bosnia and Poland.
The number of people sick with the flu in Latvia has tripled since November 10th.
A major German newspaper is admitting that at least seven people have died so far in Germany following an injection with the H1N1 swine flu vaccine Pandemrix.
A "handful" of Sacred Hearts Academy students were taken to Kapiolani Medical Center after receiving swine flu vaccines at the school.
Is Barack Obama ready to support a proposed U.N. resolution unilaterally declaring the creation of a Palestinian State?
Italy's foreign minister is pushing for the creation of a strong "EU Army".
The United Nations' nuclear watchdog is saying that Iran may have more secret nuclear sites that it is hiding from the international community.
According to France's foremost anti-terror expert, the Pakistani Army ran training camps for a Muslim extremist group with the total support of the U.S. Central Intelligence Agency.
A Kuwaiti firm is being accused of massively overcharging the U.S. for military food.
It turns out that CNN wanted Lou Dobbs off of their network so badly that they gave him an $8 million severance package to leave.
A prominent earth sciences professor says that we must reduce the population of the earth or else "Gaia" will do it for us.
The European Organization for Nuclear Research (CERN) has announced that it could restart its Large Hadron Collider as early as this week.
Are genetically engineered hormones used by the dairy industry causing an increase in cancer among humans?
A new study has found that water fluoridation causes more premature births, one of the top causes of infant death in the USA.  When will our authorities stop putting fluoride in our water?
Stephen Scott, director of research at the U.K.'s National Academy for Parenting Practitioners says that lesbians make better parents than conventional couples.
The Israeli Internet Union has issued an open letter to Knesset members asking them to "act to stop the passage of the law that would require biometric identification measures and a biometric database, at least in its current form".
The U.K. government's obsession with collecting data has now extended to 5 year olds, as local Community Health Services prepare to get parents to reveal the most intimate details of their child's personal, behavioral and eating habits.
One expert says that the number of new children's books about Barack Obama is astounding.
Texas officials are warning that they are rapidly running out of water in that state.
The U.S. Geological Survey says that a magnitude 4.6 earthquake hit a remote area of the Mojave Desert in Southern California.
Trends researcher Gerald Celente says that  the American public is rapidly losing everything to the elite international banking oligarchs.
Colonel Muammar Gaddafi recently asked an Italian "hospitality agency" for "500 attractive girls between 18 and 35 years of age, at least 1.7 metre high".
Japanese rail operators have installed blue lights at stations across Tokyo in an attempt to deter passengers from killing themselves by jumping in front of trains.
Lastly, could it be Bachmann instead of Palin in 2012?  A new website seeks to enlist Michele Bachmann to run for president in 2012 against Barack Obama.