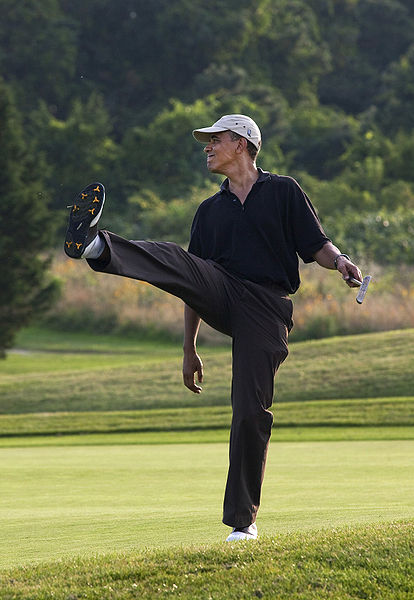 For a President who was suddenly concerned with optics after media outlets juxtaposed images of his hitting the golf course while acknowledging news of journalist James Foley's beheading with Foley's grieving parents, Barack Obama doesn't appear to have learned from it. While vacationing in Hawaii, Obama hit the links again, only this time on Christmas eve with a staunch Islamist who last year defended ISIS and supports Sharia law in his country.
With Islam's contempt for the Christmas holiday, the shamefulness of Obama's chosen golf partner was amplified by the timing. It's an issue of tolerance and sensitivity when applying Obama's own public standard. Predictably, NPR reported on the event but missed the significance:
What do two world leaders do when they find themselves on the same Hawaiian island on Christmas Eve? If you're President Barack Obama and Malaysian Prime Minister Najib Razak, you round up a few aides and make common cause on the golf course.

Both vacationing this week in Oahu, Obama and Najib teed off Wednesday on a cloudy but balmy afternoon at a Marine Corps base, not far from where Obama is renting a home for his two-week stay. The two leaders seemed at ease together, smiling and laughing in casual clothes as they sized up their shots.
(Read the rest of the story here…)