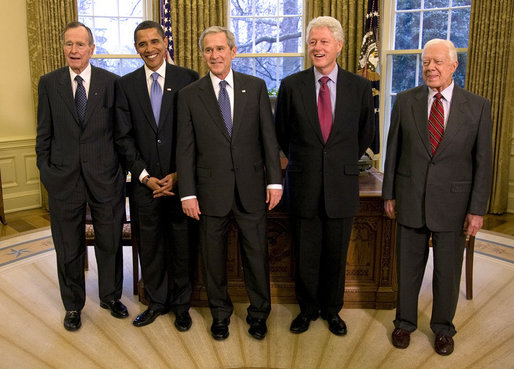 It is exceedingly difficult to be optimistic about the future of our nation when you see poll numbers like this. The Pew Research Center recently conducted a survey in which they asked Americans to name the president that has "done the best job in your lifetime". You would think that Ronald Reagan would be the winner by a very wide margin, but he wasn't. Instead, Barack Obama was the winner with 31 percent of the vote. Reagan came in second with 21 percent, Bill Clinton was third with 13 percent, and Donald Trump was fourth with just 10 percent. When you add the Obama and Clinton numbers together, you come up with a grand total of 44 percent of all Americans that believe that either Barack Obama or Bill Clinton was the best president during their lifetimes, and that is absolutely frightening. It essentially means that nearly half of the entire U.S. population has gone mad, and with numbers such as those it is very difficult to imagine how we are ever going to restore our Constitutional Republic.
Those that responded to the survey were asked to give their first and second choices to the question, and this is how the final numbers came out for first choice…
Obama: 31 percent
Reagan: 21 percent
Clinton: 13 percent
Trump: 10 percent
Kennedy: 7 percent
Carter: 4 percent
George W. Bush: 3 percent
George H.W. Bush: 3 percent
Eisenhower: 2 percent
Ford: 1 percent
Nixon: 1 percent
Johnson: 1 percent
Truman: 1 percent
Roosevelt: 1 percent
The way that the question was asked is obviously going to depress the numbers of presidents that served many decades ago. For example, I was not born yet when Eisenhower was president, so he would not be an option for me when naming the president that has "done the best job in my lifetime". If the question had been framed differently, I think that Eisenhower and Kennedy would have done much better.
In particular, I think that Eisenhower doesn't really get the credit that he deserved. America generally thrived under his leadership, but nobody ever really talks about him too much anymore.
Another thing that really jumps out about these numbers is how poorly both Bushes did.
George H.W. Bush's presidency was largely considered to be a continuation of the Reagan administration, but he only got 3 percent of the vote. 7 percent did name him as their second choice, and most of those probably named Reagan as their first choice.
George W. Bush served much more recently, and to get only 3 percent of the vote shows how the American people really feel about him at this point. The president that served immediately before him (Bill Clinton) got 13 percent of the vote and the president that served immediately after him (Barack Obama) got 31 percent of the vote. To only receive 3 percent of the vote is an absolutely disastrous showing.
Overall, Democrats have to feel really good about these survey results. If you add the last four Republican presidents together, their grand total of 37 percent of the vote doesn't even come close to the combined total of the last two Democratic presidents (44 percent).
Needless to say, Democrats overwhelmingly chose Obama or Clinton as their top choices in this poll…
A sizable majority of Democrats and Democratic-leaning independents say Barack Obama (71%) is the best (51%) or second best (20%) president in their lifetimes. About half of Democrats name Clinton (49%). Another 14% of Democrats name Kennedy as one of their top two, 12% name Reagan and 10% mention George W. Bush.
And Republicans overwhelmingly picked Reagan or Trump as their top choices…
A majority of Republicans and Republican-leaning independents say Reagan (57%) ranks in the top two presidents in their lifetimes. Another 40% of Republicans name Trump, while 20% name George W. Bush, 16% name George H.W. Bush and 15% mention Clinton.
Perhaps the most alarming result from this survey was how Millennials voted. Our young adults are the future of this country, and a whopping 62 percent of them picked Barack Obama as their first or second choice…
Millennials (born 1981 to 1996) were the most likely to choose Obama, with 62 percent naming him as their first or second choice. Reagan was the top pick for Generation X (1965 to 1980), baby boomers (1946 to 1964) and the silent generation (1928 to 1945).

Unsurprisingly, party identification was very closely tied to a person's answer. Obama was the first or second pick of 71 percent of Democrats but only 13 percent of Republicans.

Reagan was the clear favorite among Republicans with 57 percent (12 percent among Democrats). Trump was the second pick for Republicans at 40 percent. Only 3 percent of Democrats named Trump.
This is yet more evidence that we are undergoing a dramatic demographic shift in this nation.
Older Americans tend to vote more than younger Americans do, but older Americans are also slowly but surely dying off.
Unless something fundamentally changes, we aren't going to have any Ronald Reagans or Donald Trumps in the future. Instead, what we are going to get are more Barack Obamas and Bill Clintons.
In fact, if Michelle Obama wanted to run for president in 2020 she would almost certainly win the Democratic nomination easily, and that is a chilling thing to admit.
But she almost certainly will not run, and instead it looks like Hillary Clinton is gearing up for one last run for the presidency.
Many conservatives assume that since Trump beat Clinton last time that he will beat her again.
And that might be true.
However, we should remember that Hillary did receive 3 million more votes than Trump did last time.
And we should also not forget that older voters are slowly but surely dropping off the voting rolls, and they are being replaced by an entirely new generation of young people that is extremely liberal.
That doesn't mean that all hope is gone. We are at a crossroads, and at this moment we are in a battle for the soul of our nation.
If we want to win, then conservatives better wake up, because right now the left has far more passion and energy than we do.
Michael Snyder is a nationally syndicated writer, media personality and political activist. He is publisher of The Most Important News and the author of four books including The Beginning Of The End and Living A Life That Really Matters.