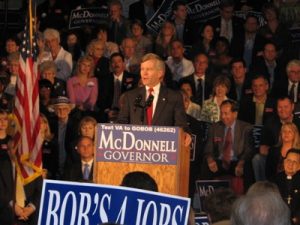 The most important news for Tuesday, November 3rd, 2009…..
Republican Bob McDonnell has defeated Democrat Creigh Deeds and will be the next governor in the state of Virginia.  This is being seen as an incredibly bad sign for Barack Obama in a state that Obama won back in 2008.
Romania's Health Ministry has decided to place all hospitals in the country under quarantine.
The governor of Hawaii says that the National Guard will be administering swine flu vaccine to the general public statewide.
At a recent Council on Foreign Relations symposium it was suggested that creating an artificial shortage of the swine flu vaccine may be one way to convince people to take it: "I think what would work better would be to say that there was a shortage and people tend to buy more of something that's in demand. (Laughter.) We saw that — there was one season where, really, people lined up all night to get a flu shot."
In his new book, "Our Choice: A Plan to Solve the Climate Crisis", Al Gore stresses the "spiritual side" of climate change and make this stunning admission: "Simply laying out the facts won't work."
Al Gore stands poised to become one of the world's first "carbon billionaires".
Do you think that the oil companies are against Al Gore's cap and trade scheme?  Think again.  Exxon is actually very much in favor of carbon taxes.
If the U.S. agrees to the Copenhagen Treaty there will likely be some very severe consequences for the U.S. economy.
The price of gold has hit another new record.
Mike Adams of Natural News has posted an article about why Vitamin D is far better for you than a swine flu shot is.
The new movie, "The Men Who Stare At Goats" is far more real than most people would dare to imagine.
Do the new airport security scanners that look under your clothing also "tear apart DNA"?
1,600 people a day are being added to the FBI's "no fly" list.
Half of all U.S. kids will be on food stamps at some point in their lives.
Barack Obama says that more job losses are coming.
Bill Clinton says that he wishes that he could have been president for the rest of his life.
Are Jihadists being trained at compounds inside the United States?  Yes – they are.
A new 326 page report says that gender-bending chemicals in everyday products are turning more babies into girls.
A Massachusetts man has been fired from his sales position at the Logan Airport branch of Brookstone for telling a female manager that his Christian faith says that homosexuality is wrong.
Marine Corps Commandant General James T. Conway has emerged in internal Pentagon deliberations as the most outspoken opponent of permitting gay men and women to serve openly in the U.S. military.
A new study says that television watching may be associated with aggressive behavior in young children.
Former Scientology members are speaking out about the group's efforts to track them down.
Hundreds of people recently attended a wedding in central Somalia between a man who says that he is 112 years old and his teenage wife.
First Baptist Church Dallas has unveiled plans to build a $130 million campus in the downtown area that would compete with some of the most "architecturally stunning" buildings in its city.
Lastly, On Friday it was announced that James Dobson is leaving Focus on the Family's daily radio show.  It is truly the end of an era.