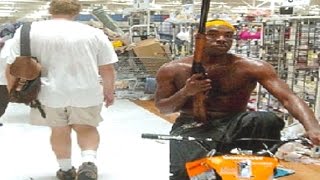 Protests broke out overnight on the streets of Ferguson, Missouri, with vehicles and businesses damaged and looting reported, following the police shooting of Michael Brown, 18.
People could be seen carrying hubcaps out of an auto supply store. A shoe store also was looted, with police swarming into the store's parking lot. A QuikTrip convenience store was overrun, with people grabbing items and running out of the store, glass shattered and items strewn about the sidewalk.
A fire later broke out, destroying the QuikTrip store.
Other witnesses reported seeing people vandalize police cars and kick in windows in the St. Louis suburb.
(Read the rest of the story here…)
A calmer dawn broke Monday morning after a night of protest and looting in Ferguson left broken glass and at least one burned-out building.
Officer Brian Schellman of the St. Louis County police said two officers were injured overnight Sunday — one was hit by a brick and one suffered knee injuries. Police arrested 32 people for theft, assault or burglary.
The protests followed the fatal shooting on Saturday of Michael Brown, 18, by police. Authorities said Sunday that a police officer shot Brown, who was unarmed, after the teen attacked the Ferguson officer. After protests and a vigil earlier in the day, some people broke into stores and looted them, setting fire to a QuikTrip and leaving glass and other debris strewn about.
Schellman said the looting and destruction stopped and the area had quieted a down about 3:30 a.m. Monday.
(Read the rest of the story here…)